In His Brand of Passion by Kate Hewitt: Aaron is the CEO of Bryant Enterprises. For as long as he can remember, that's what he's been groomed to do. He has been brought up to believe that business precedes everything else, no matter what. When Aaron is best man at his brothers wedding, he has no qualms about checking his phone or texting during the ceremony…after all, it's business and Bryant Enterprises trumps all.
Zoe, sister of the bride, can't believe her eyes when she sees Aaron using his phone during the wedding ceremony! "He was unbelievable. He was also a complete jerk. A sexy jerk, unfortunately; tall, broad and exuding authority out of every pore." At the soonest opportunity, Zoe takes slips the phone from Aaron's pocket, first hiding it in her purse, then upon discovery, under her breast in her dress! Aaron is irate, but he's not going to let Zoe win and at the first opportunity, reaches in to take the phone back. Both of them are stunned by the electricity they can feel between each other…shocked and annoyed! If not for Zoe's capers with his phone, Aaron probably wouldn't have paid her much attention, if any…but now he can't help himself!
Zoe and Aaron end up at his place for a passion filled night that neither of them will be able to forget in more ways than one! When that one night leads to something else, will their be room in Aaron's life of business for Zoe? Aaron is a man not raised to feel emotion. He was not raised feeling loved or being told he was loved. In his mind, his business is his one obligation and there is no room in his life for a relationship, let alone love. Any emotion is a sign of weakness and weakness is bad for business.
Zoe has always been looking for her happily ever after. She jumps right into relationships, convinces herself she's in love, only to wind up being hurt each time. She is determined that is not going to happen this time, she convinces herself that friendship with Aaron will be enough…if he can even do that. But the more time Zoe spends with Aaron and gets to know him in ways he doesn't even realize she does, the more she feels herself falling for him. And shockingly to Aaron, he finds himself caring for Zoe more than he ever thought he was capable of caring for anyone.
When the unthinkable happens, it will either drive them apart for good, or bring them closer together. What will it be? Can Zoe open herself up again, risking her heart for Aaron, a man who's not even sure himself what he wants? Will Aaron be brave enough to take the biggest risk of his life?
I really liked both Zoe and Aaron. Zoe is a strong, independent, happy woman, despite her relationship misadventures. I felt like Zoe would be a really fun, energetic person to be around. She doesn't like to accept help, but she also won't turn it down out of spite when she knows it's the right thing to do. I really liked this! It drives me nuts when characters hold out to spite another person, despite the possible consequences. Zoe really pulled at my heart strings too, and I really found myself hoping she would eventually get her happily ever after.
Aaron at first comes across as cold, selfish and unfeeling. I was glad that more into His Brand of Passion that Kate delved deeper into his childhood and relationships (or lack of) with his brothers. It really helps you understand Aaron and his way of being. But he's not as cold as he even thinks he is, which was a relief too! Zoe would not give up on him, she kept prodding him along, until even that was too much for her. It will be up to Aaron to figure out what he needs in life, what is important.
The secondary characters were more on the outskirts of His Brand of Passion, but they added a lot of depth to the story, the relationships, and Zoe and Aaron in particular. Aaron's family dynamics were a bit sad too, really making you want Aaron to be able to feel happiness.
Kate gives us a fast paced romance with every range of emotion! His Brand of Passion has a unique story line that will have you feeling right along with Aaron and Zoe, and manage to surprise you at the same time.
Book Info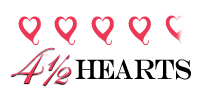 Publication Date: June 18, 2013 | Series: Harlequin Presents (Book 3156)
Money usually solves everything…
Billionaire Aaron Bryant lives and works on a knife's edge; his dark, brooding persona and fearsome reputation hide a shameful family secret. So sassy maid of honor Zoe Parker is an unwelcome distraction when, at his brother's wedding, she hides Aaron's ever-ringing phone down her tight pink dress!
But Aaron's never had a problem like this before!
Aaron's arrogant, skilled retrieval of his property sparks a chemistry that ends in a mind-blowing one-night stand. But such uncontrollable passion leaves an indelible mark on their lives. He never expected to see Zoe again, until two little lines appeared on a stick.…