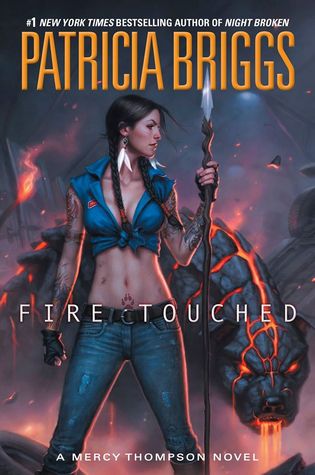 In Fire Touched (Mercy Thompson #9) by Patricia Briggs, Mercy Thompson has had to face some tough challenges throughout her life. So, stopping a rampaging troll from messing up the city should be a piece of cake. Except it's not, not even with the help of her werewolf pack and it seems the only people that can help are the people the troll is after. Yet, that's not the worst of it. With tensions mounting between the Fae and humans, Mercy together with her husband and their pack have decided to go against orders handed down by the most powerful werewolf in the country, in order to protect Aiden, a young boy with the incredible power of fire.
Ever since reading the first book of this series, I have looked forward to every book that has followed, and this story did not disappoint. The plot was fast-paced, captivating and filled with plenty of action right from the beginning, as Mercy drags the pack into a dangerous situation while facing other obstacles such as the unhappiness of the pack because of what she's gotten them into. As for the dialogue, it kept me entertained with the teasing dialogue between the characters. Yet, what I liked about it was learning more about the Fae. Why do they need to negotiate with the government to sign a nonaggression pact? Why do they want the boy so badly?
Every boarding party needs its guide to light the way, its wizard to defeat the magic, and a tank to kill everything that tries to stop the party," Jesse said. She had been playing too much ISTDPBF with the pack lately, and it was affecting her thinking. She looked at her father. "The tank is not sacrificial."
The characters of this series continue to impress me, especially Mercy. There's so much to like about her. She's resilient, smart and altruistic. How she manages to get herself out of the trickiest situations always astounds me. Then again, she's always been a survivor and her past proves that. She hasn't had the easiest of times being accepted among the pack because she's a coyote and some don't think she's good enough for Adam, the pack Alpha.
"What are you cooking?" asked Aiden, coming up from the basement where he'd been playing computer games. He had only set the house on fire once since we'd returned from Underhill. He'd told me that Underhill promised she could help him stop lighting fires in his sleep. He planned on going for a visit next week to see what she could do.
"Brownies," I said. He flinched.
Jesse, who'd come up behind him, laughed. "Not that kind of brownie, dummy. It's a cross between a cookie and a cake. You'll like it." She sniffed. "Smells good."
Overall, this was a really good addition to the Mercy Thompson series for Ms. Briggs, and I can't wait for the next book in the series. The ending wrapped the story up nicely, as Mercy needed to take time to relax and what a better way than baking. I would recommend Fire Touched by Patricia Brigss, if you've read the other books of this series, or you enjoy Urban Fantasy stories.
Book Info:

March 8th, 2016 | ACE | Mercy Thompson #9
Mercy Thompson has been hailed as "a heroine who continues to grow and yet always remains true to herself."* Now she's back, and she'll soon discover that when the fae stalk the human world, it's the children who suffer…
Tensions between the fae and humans are coming to a head. And when coyote shapeshifter Mercy and her Alpha werewolf mate, Adam, are called upon to stop a rampaging troll, they find themselves with something that could be used to make the fae back down and forestall out-and-out war: a human child stolen long ago by the fae.
Defying the most powerful werewolf in the country, the humans, and the fae, Mercy, Adam, and their pack choose to protect the boy no matter what the cost. But who will protect them from a boy who is fire touched?