First Comes Baby… (Wild Rose Sisters #2) by Christine Rimmer is a complete story. Josephine LeClaire appears at her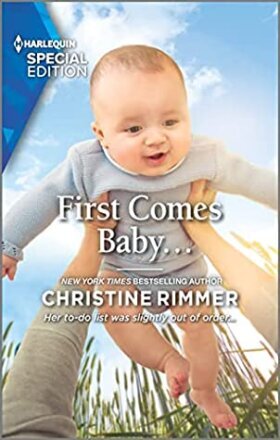 neighbor Miles Halstead's door at three o'clock in the morning about to giving birth her son, asking for help to get to the hospital. Labor speeds up and Josie ends up giving birth in Miles' room. This event initiates an unexpected friendship that eventually leads to marriage. Where's the trick? It'll be a marriage in which they will have all the benefits that it brings… except love.
Why have they opted for such a marriage? Both have had their failures in love. Miles lived a lie during his entire marriage and never knew it until his wife died unexpectedly. Since then, three years have passed and he keeps his heart under lock and key. He only lives focused on his farm and his two teenage daughters. Josie has always had bad luck in love because the men she has fallen in love with have abandoned her. Despite this, she's unwilling to give up her desire to be a mother, so she resorts to an insemination clinic—which is why she's pregnant and ends up giving birth in Miles's bed. They have known each other since they were children (their respective farms adjoin each other) but have never been friends. So in the weeks after the birth of little David Miles (his second name given after Miles), both Josie and Miles are surprised at how much they have in common, how their friendship grew naturally, and come to the conclusion that together they could have a happy and lasting marriage.
This is a romance without extravagance but its development comes too fast. Despite this, their love stems from friendship, which makes it more believable. There's also passion and intensity in their love interactions. Being two farmers with similar interests makes them more attractive.
One detail that really surprised me has to do with the supporting characters, specifically Miles' daughters. Ashley and Hazel, teenagers aged 13 and 16 respectively and contrasting one from the other, are very mature and down to earth. Even when Ashley is confrontational with her father, she doesn't indulge in unnecessary melodramas. Her issues are very well justified. These girls (and the way they have been created) are one of the strengths of this book. This author knows how to bring to life interesting and well-defined characters.
The reading is fast and, although sometimes it has gaps that hinder the flowing rhythm of the plot, the book has well thought out scenes, with transitions that aren't forced at all and with touches of humor. It has been a pleasure to meet again with a story written by Ms. Rimmer.

Book Info:

Publication: February ,22 2022 | Harlequin Special Edition | Wild Rose Sisters #2
Her to-do list was slightly out of order in New York Times bestselling author Christine Rimmer's second book in the Wild Rose Sisters miniseries!
"Will you marry me?"
When Josie LeClaire went into labor alone on her farm, the single almost-mother had no one to turn to but her neighbor, Miles Halstead. Fortunately, the widowed single father was more than up to the task. And as he found himself unable to stay away from the lovely Josie—and her adorable newborn son—he realized he wanted her in his life as more than a friend.
Josie treasured what Miles had already come to mean to her and her baby. So when he uttered those four words, of course she said yes. Even if he couldn't say the three words she really wanted to hear…
From Harlequin Special Edition: Believe in love. Overcome obstacles. Find happiness.
Wild Rose Sisters
Book 1: The Father of Her Sons
Book 2: First Comes Baby…