In First Comes Love by Emily Giffin, Sisters Josie and Meredith Garland have always been at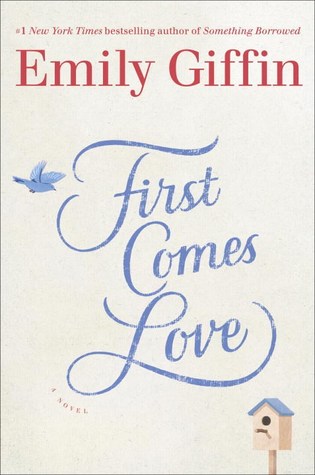 odds. They love each other of course but they have drastically different personalities. Their one common denominator is their shared grief over a family tragedy that happened fifteen years ago. But since that horrible day, Meredith and Josie have drifted even further apart. Now as grown adults facing unhappiness and uncertainty in their lives, they could use each other's support more than ever. But neither one is willing to change.
'But I remind myself that motherhood is what matters most to me, and that once I have a baby, I won't want to change a single thing about my past…because all those steps will have been what led me to my child.'
First grade schoolteacher Josie is still hiding secrets about that night fifteen years ago that she's afraid will shatter her family even more. And now that she's giving up on dating and wants to become a single mom, she knows she might need her sister's help. But part-time attorney Meredith has her own drama playing out as she becomes unhappy in her marriage and with her career. She's unsure if she went down the right path, choosing marriage and family over her dreams of being an actress. So as each sister faces life changing decisions, will they be able to set aside differences and be there for each other?
'It occurs to me that as different as we are in our behavior and decisions, our most basic, knee-jerk emotional reactions to really big things are often remarkably similar. And it is in these moments that I am most grateful for my sister.'
First Comes Love was the emotionally-charged story of two sisters who were both irrevocably changed by a family tragedy. The bulk of this book takes place fifteen years after that horrific loss, showing how different their lives have become and how the rift has grown between them.
'But there is one constant, one thing you can always count on: that not only does love come first, but in the end, it is the only thing that remains.'
I have to mention right away that I truly enjoyed Giffin's writing voice. There was a nice flow to the story and it made this a breeze to read. I also liked that this was told from both Josie and Meredith's POVs, alternating chapter by chapter. It did start off with their mother's view on the incident that occurred–which was bittersweet and broke my heart–but I thought it was a very important way to begin this family's tale. And it truly did encompass the entire family: father, mother, brother, sisters, as well as friends of the family. The loss the Garlands suffered touched many different people and affected them for years in the future.
The bulk of the focus was on Meredith and Josie as they hovered close to forty-years-old, both unhappy with where their lives were at the moment. I'll admit that I had a hard time connecting with Josie in some aspects and Meredith in others. I kind of felt like Josie was a very self-absorbed woman who did everything on a whim. It didn't seem like she meant to be destructive or unkind, she was a wonderful, caring teacher after all, but I think Meredith had a point when she mentioned how everything always seemed to be about Josie and had to be done on her timetable. Even when secrets relating to the family tragedy came out, it was when Josie felt like they should be revealed, not when things happened fifteen years before.
Meredith I figured out a little bit easier and could understand why she acted as she did. She was a type-A personality and had an OCD about cleanliness. I get that. It was some of the choices she made, going along with what she thought she *should* do instead of what she *wanted* to do that I knew would end up causing her trouble in the long run. Specifically in regard to her marriage and her career. It felt like Meredith came across quite harsh to her husband and definitely to Josie. She had a way of criticizing and nitpicking that didn't endear people to her, instead pushing them away. So it was interesting to see how she handled her midlife crisis. And I really think she, and Josie actually, were in a better place at the end of their story.
A close look at sisters who dealt with their grief in very different ways after their lives were shattered, First Comes Love was a poignant, heartfelt and hopeful work of fiction that shows how strong the bond between a family can truly be.
Book Info:

Publication: Expected publication: June 28th 2016 | Ballantine Books |
In this dazzling new novel, Emily Giffin, the #1 New York Times bestselling author of Something Borrowed, Where We Belong, and The One & Only introduces a pair of sisters who find themselves at a crossroads.
Growing up, Josie and Meredith Garland shared a loving, if sometimes contentious relationship. Josie was impulsive, spirited, and outgoing; Meredith hardworking, thoughtful, and reserved. When tragedy strikes their family, their different responses to the event splinter their delicate bond.
Fifteen years later, Josie and Meredith are in their late thirties, following very different paths. Josie, a first grade teacher, is single—and this close to swearing off dating for good. What she wants more than the right guy, however, is to become a mother—a feeling that is heightened when her ex-boyfriend's daughter ends up in her class. Determined to have the future she's always wanted, Josie decides to take matters into her own hands.
On the outside, Meredith is the model daughter with the perfect life. A successful attorney, she's married to a wonderful man, and together they're raising a beautiful four-year-old daughter. Yet lately, Meredith feels dissatisfied and restless, secretly wondering if she chose the life that was expected of her rather than the one she truly desired.
As the anniversary of their tragedy looms and painful secrets from the past begin to surface, Josie and Meredith must not only confront the issues that divide them, but also come to terms with their own choices. In their journey toward understanding and forgiveness, both sisters discover they need each other more than they knew . . . and that in the recipe for true happiness, love always comes first.
Emotionally honest and utterly enthralling, First Comes Love is a story about family, friendship, and the courage to follow your own heart—wherever that may lead.
Praise for Emily Giffin
"Emily Giffin ranks as a grand master. . . . She has traversed the slippery slopes of true love, lost love, marriage, motherhood, betrayal, forgiveness and redemption that have led her to be called 'a modern-day Jane Austen.' " —Chicago Sun-Times
"A dependably down-to-earth, girlfriendly storyteller." —The New York Times
"Giffin's talent lies in taking relatable situations and injecting enough wit and suspense to make them feel fresh." —People
"Emily Giffin is the creator of characters so real and so enthrallingly flawed that people sometimes forget they are fictional." —Atlanta Journal-Constitution
"When it comes to writing stories that resonate with real women, bestselling author Emily Giffin has hit her stride." —San Francisco Chronicle
"Giffin knows a thing or two about writing a page turner."—Southern Living
"Giffin's writing is true, smart, and heartfelt."—Entertainment Weekly