Entangled by Alex Rosa: Blake is thrilled to have landed a part in a movie, but he's not looking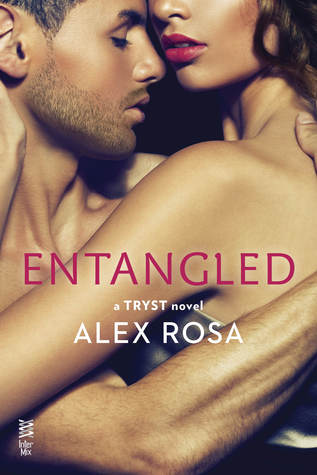 forward to being separated from Skyler. They finally started openly dating and neither want the distance, even though it's a great career move. Skyler is trying to finish school and has plans to continue in grad school.
While taking their relationship in the open is needed for them, it also brings other complications. From the little things, such as their first actual date to the bigger things like Skyler's brother (and Blake's manager) having difficulty adjusting to their relationship. Since Blake is in the public eye, they also have to deal with the attention he and their relationship will get from the press and paparazzi.
"What are we doing?" I ask, confused but thrilled.
"You said you prefer spontaneous."
"You want to be spontaneous right now?" I don't try to hide my sarcasm.
"You were right about this place. It's not our style."
Things are great when Blake and Skyler are together and they have plenty of chemistry, but the distance preys on their insecurities. Both are finding new opportunities that may continue to separate them and they have plenty of distractions in the world that Blake introduced them to, which test their level of trust and commitment. Skyler is a worrier and neither are immune to experiencing jealousy.
"You love me that much that it'd drive you into a homicidal rage?"
"We're talking Law & Order status here."
A laugh breaks through my stress, and it feels so good. "Just pin it on your brother," I chortle.
Entangled is a mix of the reformed playboy and best friend's sibling romance. It took a while to actually get into the story and it was difficult for me to relate to Skyler. Alex Rosa provided heat, drama, and angst. Ms. Rosa brought back some of Skyler's baggage and allowed her to have a fairly realistic reaction to those events in one sense. Entangled can be read as a standalone even though it continues the relationship between Blake and Skyler from Tryst. Fans of Jamie Beck and Seressia Glass will enjoy Entangled.
Book Info:

Published June 2016 | Penguin Group (USA) LLC | Tryst #2
In the emotional and dramatic sequel to Tryst, Skyler and Blake's relationship is finally out in the open. But as new challenges open up old wounds, their love is put to the ultimate test…
Blake is desperate to be the kind of man that Skyler deserves, but with his latest film putting him on the verge of superstardom, being there for her is growing harder and harder. As his filming schedule takes him on the road and away from the woman he loves, he discovers that being in a public, committed relationship is no easy task—especially from two thousand miles away.
Skyler wants Blake to pursue his dreams, but his constant absence weighs on her more than she admits. Even as she throws herself into new distractions, she finds herself facing uncertainties and jealousies that could tear apart everything they've built. And when disaster strikes while Blake is away, she'll have to decide if their passion is worth the pain…