In First Time in Forever (Puffin Island #1) by Sarah Morgan, Emily Donovan is petrified of water after a traumatic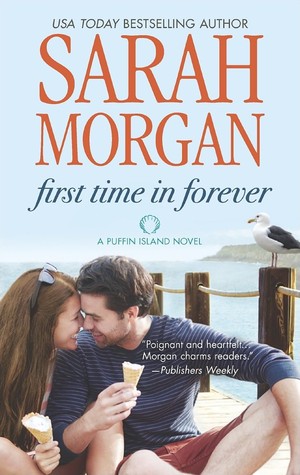 event in her childhood, but her only choice for safety with her niece Lizzy is to stay on Puffin Island in Maine. Her best friend Brittany offered the use of Castaway Cottage while they adjust to their new life together and to keep out of the public eye. Everything is setting her nerves on edge, though. And that includes gorgeous Ryan Cooper, who is also a friend of Brittany's. Emily is not ready to be a mother figure to Lizzy, and she definitely is not ready to admit that her feelings for Ryan have gone from platonic to full fledged infatuation. Can't she just get through one personal crisis at a time?
'She might not know anything about being a mother and she might not be able to love, but she could stand between this child and the rest of the world.'
Yacht club owner Ryan was happy to help Brittany by keeping an eye on Emily and Lizzy and stepping in to lend a helping hand. He didn't expect to be knocked senseless when he got his first look at sexy Emily. It's clear that she is not interested in a relationship. Neither is Ryan. But he wouldn't mind having some fun. The biggest thing holding him back? Lizzy, while adorable and sweet, is not part of his plans for the future. Having raised his siblings after their parent's death, Ryan steers clear of children and emotional attachments. Too bad he can neither avoid Emily, nor get her out of his head.
"Life really has dealt you a hand." His gaze was steady. Sympathetic. "I just want you to know I'm here for rebound sex or revenge sex whenever you need it. Just say the word. Or just grab me and explain afterwards, whatever works for you."

She wouldn't have thought it possible to want to laugh at that moment, but she did. "Did you really just say that?"

"I really did. Want to think about it?"
First Time in Forever is a romance that will pull on your heartstrings while at the same time help you realize that family can be of your own making. It doesn't always have to be just blood relatives. Sometimes close friends are who we need in our lives to feel loved and appreciated.
'Let's make a promise. When one of us is in trouble, the others help, no questions.'
Book one in Sarah Morgan's new Puffin Island series was a fabulous way to begin. Here we got some of the backstory as to how Emily, Brittany, and Skylar–the ladies we will be following–met and became lifelong best friends. And I may be biased (sorry!) having grown up in the same area as the book is set, but there is something so special about the island people of Maine. And the beautiful area in general, actually. You have to be willing to do a lot of hard work if you intend to live year round there, especially in the harsh winter environment. But shown through this story, the rest of the seasons and the spectacular views, like those at Castaway Cottage, are worth it.
Ryan was a great example of a rugged island person, with how self-reliant and caring he was. He had been through not one, but two, traumatic events in his life and had pulled through with grace. I loved the relationship he had with his grandmother Agnes and his sister Rachel. Ryan was protective, maybe even overprotective, but he had their best interest at heart. And when he fell for Emily? That was so much fun to watch him deny his feelings even though us readers already knew how it would all end up! He intended to be a lifelong bachelor but I think not only Emily threw Ryan for a loop, cutie pie Lizzy was probably what pushed him over the edge. He was so patient with her and it was just a joy to see them interact.
My heart went out to Emily. The only love she had ever really felt was with her friends, Brittany and Skylar, and the few residents on Puffin Island she met during her trips there years before. To have to take on the responsibility of her niece was a difficult process for her. And once a few revelations about her past were exposed, it became clear why she shied away from close relationships. Emily and Ryan together were all kinds of perfect, in my mind, as they had both experienced a lot in their lives but had stayed strong. She had a rather tender/fragile side to her underneath the tough persona which I thought made her very relatable. And I've gotta say, the scenes between Emily and Ryan were smoking hot. Just the dialogue alone was enough to make the temperature go up! 😉
I swear I always walk away from Sarah Morgan's novels with stars in my eyes and sighing oh-so happily…just like I did here. First Time in Forever is a shining example of an emotionally driven love story with unique and engaging characters. Definitely recommended.
Book Info:

Publication: February 24th 2015 by HQN Books | (Puffin Island #1)
Windswept, isolated and ruggedly beautiful, Puffin Island is a haven for day-trippers and daydreamers alike. But this charming community has a way of bringing people together in the most unexpected ways…
It's been a summer of firsts for Emily Donovan. From becoming a stand-in mom to her niece Lizzie to arriving on Puffin Island, her life has become virtually unrecognizable. Between desperately safeguarding Lizzie and her overwhelming fear of the ocean—which surrounds her everywhere she goes!—Emily has lost count of the number of "just breathe" pep talks she's given herself. And that's before charismatic local yacht club owner Ryan Cooper kisses her…
Ryan knows all about secrets. And it's clear that newcomer Emily—with her haunted eyes and the little girl she won't let out of her sight—is hiding from something besides the crazy chemistry between them. So Ryan decides he's going to make it his personal mission to help her unwind and enjoy the sparks! But can Puffin Island work its magic on Emily and get her to take the biggest leap of trust of all—putting her heart in someone else's hands?