Flipping Love You by Erin Nicholas is the third book in the Boys of the Bayou Gone Wild series. I love all the Landrys.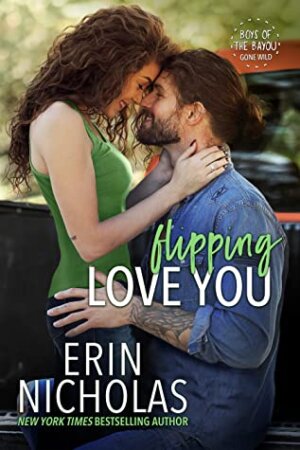 Jillian Morris is a wildlife veterinarian whose life is all about penguins, Galapagos Island penguins to be exact. When she inherits eight Galapagos penguins and millions of dollars to take care of them she seeks out her friend, wildlife vet Griffin Foster in Autre, Louisiana. She arranges to have a penguin habitat for her penguins to be built there as part of the Boys of the Bayou Gone Wild's animal sanctuary. Jill's penguins are part of a special conservation program to encourage procreation for this endangered species in a domesticated environment. Her first night in Autre Jill meets a rough-looking yet super-sexy-looking guy who wipes out his motorcycle to avoid hitting a runaway goat. She couldn't believe she agreed to a one-night stand with the guy. That's not anything like her but that was one hot night. What a surprise it turned out to be that her one-night stand was her next-door neighbor in the house she had purchased in Autre, Zeke Landry. Maybe penguins weren't all there was to life…
Zeke Landry owns his own construction company in Autre, Louisiana. He is Johnny-on-the-spot when his skills are needed. He and his employees have built most of the habitats at Boys of the Bayou Gone Wild. As the baby of the Landry family Zeke is pretty spoiled, even at the age of twenty-five. His mom does his laundry most of the time and he never has to cook for himself. Yep! Pretty spoiled. When he meets Jill Morris something changes for him. The guy who enjoys being taken care of feels a need to take care of Jill. He likes her penguins and falls in love with her. With an impending third party about to join Jill and Zeke's relationship life couldn't get any better as far as Zeke is concerned.
This family is so much fun. It's been great getting to read about all the love matches and their bayou tours and petting z00/animal sanctuary. A surprise bonus in this book is the appearance of some of the families from Boys of the Big Easy. Looks like some of the Autre moms/moms-to-be will be heading to New Orleans for a moms group and I hope Zeke heads there to for the guy's erotic book club. I totally enjoy Ms. Nicholas' writing style, fun dialogue and humor. This was a fantastic read.
QOTD: Do you believe career choices are easy to make?
Book Info:

Publication: June 29th 2021 | EN Fiction, Inc. | Boys of the Bayou Gone Wild #3
He's the tattooed bad boy her mama warned her about.
She's his hot mess — but mostly hot — next door neighbor.
Until a two-night-stand gives them the surprise of a lifetime…
Jillian Morris is a workaholic who forgets to watch the time. And to eat. And to change her shoes. And to keep even a house-plant alive. And to have any kind of a personal life.
Now an eccentric millionaire has left her eight million dollars. And eight penguins. Yes, real live penguins. She's a wildlife vet who specializes in penguins, so that makes sense. Kind of. She can, and does, keep penguins alive and well. She now just has to move them cross-country to her friend's new animal park.
So if anyone deserves a one-night (or two) stand with a hot, younger, tattooed bad boy on a motorcycle, it's her. Or so Jill tells herself when Zeke Landry flips his bike in front of her motel and she stitches him up.
If only she'd known who he really was.
And that he was the fall-hard-and-fast type.
And the protective type.
And that one night would turn into more like nine-months of being… sigh… very personal.