In Flirting with 40 by K. Bromberg (9/15), Blakely Foxx is tired of hearing that since her divorce was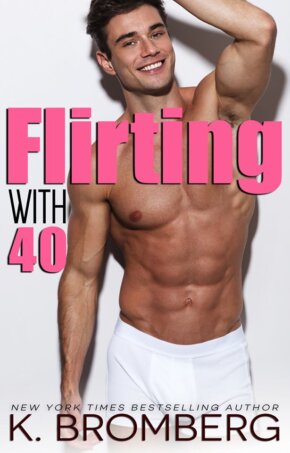 finalized almost a year ago, she should "get back out there". So she gave herself a pep talk and went to a trendy bar, just hoping to not make a fool of herself. She never expected to have the city's hottest guy sit next to her. Or to flirt with her. But after a memorable conversation and one accidental meetup later, Blakely is basically Slade Henderson's new project. He seems intent on showing her just how sexy she truly is and why she should flaunt her years of experience in the marketing field at work so she can snag the promotion she's dreaming of.
'He owns my mind. My body. And I'm not even going to talk about the flutters I feel in my heart.'
Blakely isn't sure if Slade really doesn't care about their eight year age difference or if their intense chemistry makes up for it. Either way she's not complaining. And neither is he. Because as a busy, hyper-focused cardiothoracic surgery resident, Slade has had more fun with Blakely in the last few weeks than he can remember in forever. It leaves him wondering if he could find a way to balance an actual relationship with her and his demanding career, seeing as he had resigned himself to years of nothing but casual hookups. But what if Slade and Blakely can make things work between them?
"You're so damn hung up on your age, Blakely, but when I look at you? *I just see you*.'
You know the kind of book that makes you so happy you hate to put it down? That was Flirting with 40 for me. I fell in love with the characters (well, not the heroine's boss!), the interesting premise, and of course K. Bromberg's lively bantering kept me captivated and wanting more.
"What's holding you back? Sure, you're divorced, and damn straight, you're flirting with forty, but you aren't dead. You've dropped the ball and chain, and it's your turn to fly."
Swoon. Slade and Blakely's fake relationship that turned real–quickly–was oh so sigh-worthy. And I loved that it was the heroine who was older by about 8 or so years instead of the hero being older. It was a nice twist that had a huge affect on how Blakely perceived Slade's interest in her. Particularly after getting divorced and with the way her ex treated her. As you could expect, her self-esteem took a hit which led to some definite soul searching and Blakely trying to figure out who she really was outside of her longtime marriage. And Slade was more than willing to help her, ahem, find herself.
Slade. Dear Lord. What a perfect counterbalance to Blakely. A cardiothoracic surgery resident, he was comfortable in his own skin, was kind, and absolutely loved helping people. But he would still tell things like they were. And that was just what Blakely needed. Slade was also a very sensual guy who knew just how to treat a woman right, to boost her confidence and feel good about herself. But he wasn't without his own issues. And as the story progressed, we got more details about a case at work that was wreaking havoc on his career–and his heart. It brought tears to my eyes and I have a feeling it will for many readers as well. But seeing how in awe Slade was of Blakely was my favorite part. It was super sweet and there were several touching moments they shared that you'll love.
Flirting with 40 was a fun, modern romance with a heart-melting hero and a heroine looking to live her best life. A completely relatable story for those of us nearing–or having surpassed–the 4-0 mark, K. Bromberg's newest standalone will be sure to make you smile.
Book Info:

Publication: September 15th 2020 | JKB Publishing, LLC |
An all new flirty, lighthearted, standalone romance by New York Times bestselling author K. Bromberg guaranteed to make you swoon.
Blakely Foxx is having one of those years.
Her divorce may have been finalized a few months ago, but her ex is already engaged to someone half her age. Her younger boss is determined to sabotage her chance at getting the promotion she rightly deserves. And to make matters worse, she's closing in on the big 4-0. There isn't enough wine or ice cream in the world to convince her things will turn around.
When Blakely meets Slade Henderson, she's left wondering why an early-thirties, hotter than hell, cardiothoracic surgeon would take an interest in her.
She's been warned that he'll break her heart, but she's willing to take the chance. Not only is he helping her get that promotion, but in the process, he's encouraging her to find the parts of herself she's lost over the past few years.
Slade shows her that good guys really do exist, but who knew the hardest part about turning forty would be realizing the man you thought was a rebound, is actually your happily ever after?