Covert Cover-Up by Elizabeth Goddard is the second book in her Mount Shasta Secrets series. A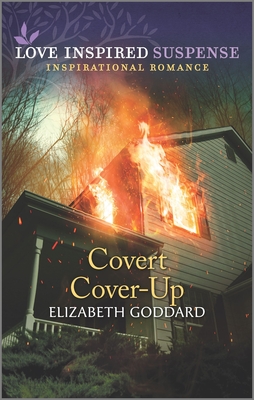 neighbors to lovers story with lots of action and suspense.
Katelyn Bradley opened up a private investigation business with her brother Ryan's fiancee Tori. She had previously been with the Mount Shasta Police Department but quit after a bad experience. So she has the training and the skills. That's what she relied on when she saw someone sneaking around Beck Goodwin's house. Sure enough once she entered the house she found a masked man hovering over Beck in Beck's library. Katelyn fought the man and managed to rip off his mask enabling her to see his face. But he got away. When the police arrived she agreed to stop at the station in the morning to look at mug shots. But later that night Beck got to return the "saving a life" favor when he caught the same man trying to smother Katelyn with her pillow. He fought off the guy but the guy got away again. This was just the beginning of the attempts on their lives. Katelyn and Beck needed to get some answers.
Beck Goodwin is a former world class rock climber who now works at a rock climbing facility. Beck and his son Ollie are still recovering from the death of Mia, Beck's wife, Ollie's mother in a hit and run automobile accident a year ago. Beck is convinced that the truck hitting Mia's car and pushing it through the guard rail on the bridge and into the water below was no accident. But the police didn't believe him. After the break-in at his house and Katelyn's house Beck hires Katelyn to help track down the assailant. They survive many dangers. The one danger he can't run and hide from though is his attraction to Katelyn. After Mia deceived him Beck doesn't think he is ready to love again.
This is a fast-paced story. Action and danger practically leap off the pages. The two main characters Katelyn and Beck both have doubts about having a relationship after trust issues from past experiences. They both fight hard to ignore the fact they are falling in love. I really liked how both Katelyn and Beck were super protective of each other. They both are very brave, competent people. This book was a fast read with lots of suspense.

Book Info:

Publication: September 8th 2020 | Love Inspired Suspense | Mount Shasta Secrets #2
Rescuing a neighbor
lands her in a killer's sights…
Private investigator Katelyn Bradley rushes to help when she suspects a burglary at her neighbor Beck Goodwin's house–and arrives just in time to save him. The widowed dad is convinced the attack is linked to his wife's mysterious death, and now Katelyn is a target, too. Trapped in someone's crosshairs, can Beck and Katelyn uncover his late wife's lethal secrets…and keep each other alive?