Flirting with Forever by Cara Bastone is the third book in the Forever Yours series but can be read as a standalone.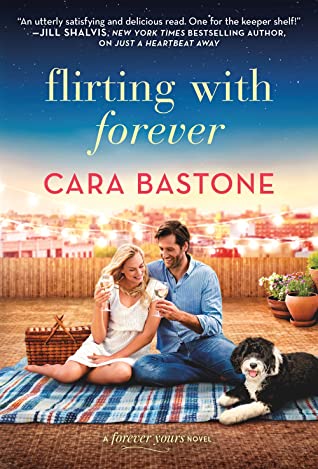 Seeing characters from the previous books was wonderful and the author provided enough background information so that if you hadn't read the previous books you weren't left wondering. The book was beautifully written, flowed smoothly between scenes, and was an attention grabber. The storyline was interesting, and the book started with a blind date between an introvert and an extravert which didn't go very smoothly.
At the age of thirty-seven, all of Mary Trace's closest friends are in love and married and she wants to find her own true love. Her mother continually brings up the subject of her being single and how her age affects her chances of having children which really bothers Mary. Estrella, one of her artist friends, sets her up on a blind date with her son John. Mary knows instantly that the date was headed the wrong way when the first words he says was "I was expecting someone… younger." With all the pressure from her mom to get married and have children, that sentence hit her the wrong way and she was ready to end the date. Estrella wouldn't give up though and found ways to force Mary and John together. Soon Mary began to see that under John's frown, rudeness, and icy blue eyes was a big-hearted man who made it his life ambition to help those who needed it.
John Modesto-Whitford was a public defender in Brooklyn and loved his job. Even though he was eloquent in the courtroom, he was blunt and often came across as rude outside of the courtroom due to his social awkwardness. When his mom described Mary as beautiful and bubbly, he assumed she was younger than him only to discover otherwise on their blind date. He was so overwhelmed by how gorgeous she was he said the first thing that came to mind and offended Mary. He instantly regretted it and hoped to have a second chance, but he got placed in the friend zone. Now John must overcome his own insecurities and find the courage to ask her out on a date again.
I absolutely loved this book, and it has become my favorite one in the series. The characters were so lovable and perfect for each other. John was so sincere and adorable with his social awkwardness that I just wanted to hug him and tell him to go for it. Mary was so cheerful and bright that I could understand how John and everyone else would be drawn to her. They had a lot of misunderstandings between them and it took courage for them both to discuss their insecurities and admit their true feelings for each other. John's words "you always glow with this internal light. You can't help it. It's your spirit. Your determination, your kind heart," told Mary that he sees her for inner beauty and that he didn't really care about her age. He was finally able to understand she didn't care about his lack of money or possessions, she just loved him for who he was. The books in the series keep getting better and I look forward to future books by this author.

Book Info:

Publication: January 26th 2021 | HQN Books | Forever Yours #3
Sometimes you get a second chance at a first impression
Mary Trace is bright, bubbly and back in the dating pool in her midthirties. All of her closest friends are in love, and she refuses to miss out on romance. So when a regular customer at her trendy Brooklyn boutique wants to set Mary up on a blind date with her son, she gives a hesitant yes. John Modesto-Whitford is gorgeous and well-groomed, so maybe dinner won't be a total bust—until he drops a less-than-flattering comment about Mary's age.
Desperate to be nothing like his snake of a politician father, public defender John Modesto-Whitford prides himself on his honesty and candor. But his social awkwardness and lack of filter just blew it with the most beautiful woman he's ever dated.
Luckily, Mom's machinations keep Mary and John running into each other all summer long, and soon they resort to fake dating to get her to back off. When their pretense turns to real friendship—and some surprisingly hot chemistry—can these two stubborn individuals see past their rocky start to a rock-solid future together?