Protective Instinct by Tricia Lynne finds football player Brody Shaw one screw up away from being traded from his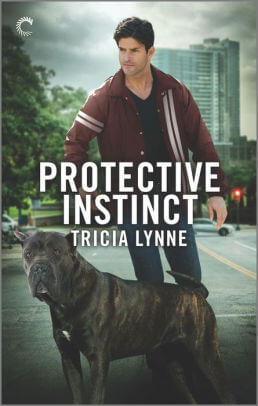 hometown team. When he suddenly finds himself in trouble because his dog bit the dog sitter, he hires dog trainer Lily Costello, who happens to be the step-daughter of his team's general manager.
Lily wants nothing to do with football players, especially any that work for her step-father. When she realizes Brody's dog was from the same puppy mill that hers was, she's determined to shut the operation down and he's determined to help her. It soon becomes clear someone doesn't want Lily to ruin their operation, and Lily may have to do the one thing she never wanted to do in order to find a way to stop them—working for her step-father.
I liked Brody and Lily for the most part. The lengths Brody was willing to go to in order to gain his dog's trust and make sure she received the training she needed proved that he was determined to do what was best for her. Lily has a similar dedication to the dogs, although there were times she was a bit too stubborn with her determination to do everything on her own.
I thought the information about puppy mills was well researched and thought out. Not everyone knows exactly how they work, and the book did a good job of educating readers. I did think some of the information bogged the book down a little and, at times, it felt like the book was dragging.
Protective Instinct is enjoyable romance with a small amount of mystery and educational information thrown in. If you enjoy books involving football players and dogs, this may be a book for you.
Book Info:

Publication: February 9, 2021 | Carina Press |
If football player Brody Shaw wants to retire from his hometown team, the Dallas Bulldogs, he needs to keep his head down and his nose clean. When the stray dog he rescued bites the pet sitter, it sets off an avalanche of bad publicity, and it's time to bring in a professional.
Dog trainer Lily Costello has no intention of training Brody's dog, CC—football players are bad news, and Brody Shaw is a player if she's ever met one. Then she sees the brand on CC's stomach. She came from a puppy mill—the very one Lily is trying to find and shut down.
Brody is all in to help the curvy trainer, and with his clout and connections, Lily finally has a lead. But it's not long before they attract the wrong kind of attention. When someone makes it clear that they'll stop at nothing to halt the search, it'll take everything Brody and Lily have to escape with their lives.