Float Plan by Trish Doller: Ten months after her fiancé Ben's suicide, Anna, motivated by incredible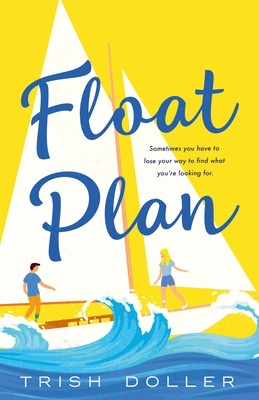 grief, throws her small worldly possessions aboard the 30 ft Alberg that he gifted her in his will, with the fool-hearty intention of sailing from Fort Lauderdale to Trinidad by herself. Having sailed only a handful of times with Ben, Anna is a complete amateur, yet the need to achieve their shared dream is a powerful driver in pushing her to flee the life of loss she's been living.
After the first overnight leg to Bimini however, Anna realises she is way out of her depth and does the sensible thing of remaining at port until she can find a suitable crewman to help navigate the trip. Keane, also coming to terms with his shattered dreams, is the ideal sailor for Anna to share the journey with, particularly given his champion sailing skills and his capacity to empathise and create space for her to learn more than just the tricks of the trade.
From beginning to end, this incredible love story was heartbreakingly beautiful, and Doller's masterful writing captured the daily, if not hourly struggle that exists for those shattered in the wake of suicide. Anna was the perfect survivor wherein her inner narrative was painted by the competing and torturous pressures of grief; the push and pull of when to feel happiness without guilt, when to feel love without hating yourself for feeling, and when to want something more for yourself then being trapped in memories and dreams of the past. Her ongoing self-doubt, and her frequent moments of self-blame were raw and honest, and yet it was her tenacity and grit that gave breadth to the real bravery wherein the strong themes of resilience were a sheer delight to experience. And Keane – sheesh! What an incredible human: intelligent, warm, perceptive and similarly courageous, his very real and life-long struggles were captured poetically, providing perfect connection between his motivation and sensitivity when it came to his treatment and care of Anna.
Whilst simple in it's over-arching plot structure, Float plan is anything but, particularly when it came to peeling back the layers of the heart that Anna was slowly rebuilding whilst simultaneously protecting herself from breaking. Incredible scenery, amazing adventures, independence and learning the life-long lessons of self-belief and ownership were the keystones of a fabulous read that was magnetic from the very first page. Without a shadow of a doubt, this is a beautiful must-read book that encourages everyone to never give up on love and to never give up on life.
Book Info:

Publication: 2nd March 2021 | St Martin's Griffin |
Since the loss of her fiancé, Anna has been shipwrecked by grief—until a reminder goes off about a trip they were supposed to take together. Impulsively, Anna goes to sea in their sailboat, intending to complete the voyage alone.
But after a treacherous night's sail, she realizes she can't do it by herself and hires Keane, a professional sailor, to help. Much like Anna, Keane is struggling with a very different future than the one he had planned. As romance rises with the tide, they discover that it's never too late to chart a new course.
In Trish Doller's unforgettable Float Plan, starting over doesn't mean letting go of your past, it means making room for your future.