Forbidden Hawaiian Nights by Cathy Williams: With the beautiful Hawaii as the backdrop to the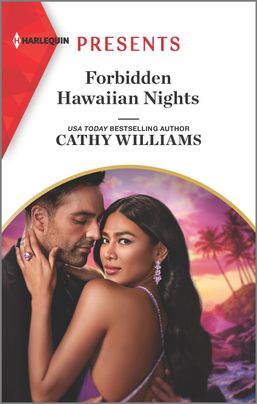 first book in the Secrets of the Stowe Family series, we're introduced to Max Stowe, flying in from his corporate glass palace ready to ride over whoever stands in his way to find his missing little sister. Leaving his little sister in charge of the new hotel build Max is furious to find none of his wishes have been adhered to, his little sister missing and somehow at the same time he's deliciously blown away by the chief project gardener Mia Kaiwi.
Passionate characters on an exotic island is a guaranteed recipe for fireworks and Cathy Williams delivers. With the added mystery of Max's missing sister, Forbidden Hawaiian Nights explores two characters who are complete opposites, the competitive hotel industry and peppered with humour the delivery of a fast-paced book generously filled with entertaining interactions and sassy dialogue.
I really enjoyed reading Mia, she is full of spark and energy and the polar opposite to Max Stowe. She also has brains and vision which attracts Max beyond her initial beauty. She shows strength of character by not giving up Max's sister and she has a sense of humour that shines brightly. Max is the typical Presents Hero and it's enjoyable watching him not always get what he wants when he wants.
I'm very much looking forward to Max's sister's story and learning more about the Stowes. Thank you Cathy Williams, very enjoyable.
Book Info:

Publication: February 2021 | Harlequin Presents | Secrets of the Stowe Family Book #1
Simmering desire leads to a red-hot island fling! Let USA TODAY bestselling author Cathy Williams sweep you away to paradise with this out-of-bounds workplace romance.
Once they give in to attraction…
…there's no telling how long it will burn!For brooding tycoon Max Stowe, Hawaii is no vacation. He must track down his missing sister and take over running his island hotel until she reappears. His first task? Enlisting the help of headstrong landscape gardener Mia Kaiwi…
Max is everything Mia shouldn't want—commanding and completely off-limits as her temporary boss! But there's no escape from temptation working so closely together. And when Max declares his desire, it's up to Mia—dare she explore their connection, even if just for a few scorching nights?
Read all the Secrets of the Stowe Family books:Book 1: Forbidden Hawaiian Nights