For His Eyes Only by Lexi Blake is the thirteenth (!) book in Masters & Mercenaries series, but don't worry if you have not read the prior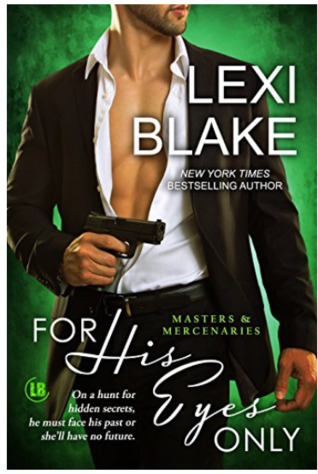 twelve books. They are all stand-alone reads, but series devotees will love revisiting their favorite characters when they make appearances in For His Eyes Only. The series blends romantic suspense with a BSDM storyline, and it is an interesting combination. You get two books in one, but the two themes do not always mesh seamlessly. Sometimes it feels like the mystery plot is placed on pause for a BSDM sex scene – sort of like a commercial. It might not always seem like the smoothest transition, but it is also nice to get a break from the bad guys and the who-done-it for a hot love scene.
Nikolai (Nick) Markovic isn't a nice guy, but he falls into bed with a very good girl, Hayley Dalton, who has a big crush on him even though he is in a working and sexual relationship with her cousin. Nick could easily fall in love with Hayley, but he doesn't think he is good enough for someone as innocent and kind as she is. He gives into temptation one night, because he can't resist the absolution she represents, and she gives him her virginity and her heart. Unfortunately, Hayley's cousin Desiree (Des) is not a nice person and doesn't want to let go of Nick although they do not love each other. She convinces him that he isn't worthy of Hayley, and she urges him to walk out on her the next morning without explanation to continue their dangerous work together. He does and he breaks Hayley's heart.
Des passes away four years later in mysterious circumstances and leaves a trail of clues that brings danger to Hayley's doorstep a year after her death. Hayley knows Nick is only person who can answer her questions and protect her; therefore, she travels to London to demand his help and protection. He's never forgotten Hayley and all his buried feelings are excavated when he sees her again. He sets out to find out who is threatening her and eliminating them, but this requires Hayley live with him. She is a temptation he cannot resist, but he still doesn't feel like he is good enough for her. He also doesn't know if sweet Hayley will fit into his BSDM lifestyle, but she isn't a young virgin anymore and her feelings for Nick have never died. Both want to explore a relationship, but there are a lot of complications to overcome before they can attempt one.
One of the biggest roadblocks to any potential happiness for the couple is the figurative ghost of Des. She haunts every aspect of For His Eyes Only, and I – frankly – got tired of her, especially considering she manipulated Nick into breaking Hayley's heart. She is the reason they were not together for five years, and she is still negatively affecting them from her grave. Nick supposedly never loved her, but she definitely had some weird hold over him and still does to this day. Des made it difficult to connect with Nick and Hayley and their love story.
The emphasis of For His Eyes Only is definitely on the romantic suspense, and it is an interesting mystery that isn't easy to predict or solve. The BSDM is on the lighter spectrum of kinky, and the scenes are tasteful and sensual. I just wish there was less of the dead Other Woman and more of just Nick and Hayley, but Des could not be ignored. If you are looking for a book that gives you two kinds of adventure – action adventure and sexual adventure – and can ignore ghosts, you will enjoy For Your Eyes Only.
Book Info:

Publication: 2/28/17 | Self Published | Masters and Mercenaries #13
A night he can't forget
Five years ago, Nick Markovic found himself consumed by his quest for vengeance. The one time he managed to find peace was in the arms of Hayley Dalton. Being with her was like bathing in sunlight, and he ached to feel that again, but he couldn't. He gave his oath to Hayley's cousin Desiree, his partner at McKay-Taggart and Knight, that he'd never let his darkness infect Hayley's innocent world.
A spark she can't put out
It was years before that Hayley offered everything she had to Nick. After that one amazing night, all she wanted was to be his forever. Unfortunately, Nick's reaction was to walk away from her and never look back. The warm and caring man she'd discovered was gone, and after Des's death, he'd only grown colder. But when Hayley finds herself in mortal danger, she's forced to seek protection from the man who broke her heart.
A flame that threatens to consume them both
Haunted by the women he failed, Nick can't allow himself to grow close to Hayley again. Running to stay ahead of the powerful forces that endanger their lives, they travel from the lush Garden in London to the glittering lights of Rio. As the threat against her becomes clearer, he realizes that to keep her safe he must confront the demons from his past, even if it costs him a future with the woman he loves.