In Leather Pants (Happy Pants #2) by Mimi Jean Pamfiloff, Judge Sarah Alma is shocked, ticked off, and, okay, a little turned on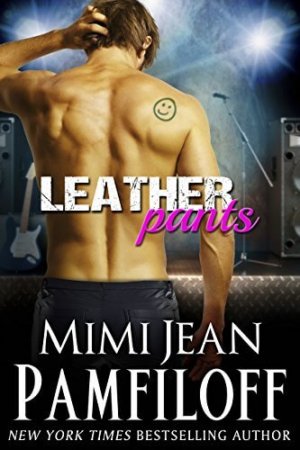 when she finds herself face to face with Grammy winning rock star Colton Young in her courtroom. Again. He's the ultimate bad boy, with eyes and lips that'll make a girl swoon. If Sarah were the swooning type. Which she totally isn't. Nope. She's a badass judge, the youngest female judge ever actually, and she's about to teach one Colton Young just what she's made of.
'She hated bad boys. They were smug and all talk until it came time for sentencing. She took a certain pleasure in watching them blubber like babies when they were found guilty and sentenced to prison.'
But Sarah's good intentions get thrown out the window when she finds herself stuttering and stammering in Colton's presence. And then it really gets complicated. A birthday bash takes a turn for the naughty, then her job is suddenly in jeopardy, and she also realizes that there just might be more substance to her sexy rock star than she thought. As both Sarah and Colt search for the truth and a way to explore their intense chemistry, they'll learn a lot about themselves and what they're capable of when their lives–and careers–are on the line.
'She and Colt had chemistry. And it was real. But so were the consequences of dating. Why couldn't things have been different? Why couldn't he have walked into someone else's courtroom?'
What do you get when you pair together a super sexy bad boy rock star and an all-work-no-play female judge? Fireworks. Lots and lots of fireworks. And because this was a Mimi Jean Pamfiloff novel, you also get fantastic naughtiness, some sticky situations, and of course a few surprising plot twists.
"…You can have anything you like, Sarah."
"Awesome," she grumbled. "I think I want your leather pants." She sighed. "You look so sexy in them."
"Still seeing me as a piece of meat?" A weak smile flickered across his parted lips.
I must say that I always, always have fun reading one of Mimi's books. It doesn't matter if it's a romantic comedy such as Leather Pants or something like her fantasy/paranormal Immortal Matchmakers series. Some stories have me in stitches from beginning to end, while others–like this one–did have me laughing outright, but also had more serious moments that pulled at my heartstrings. Either way, I end up falling for every single kooky character. And I mean every single one. Because somehow even the bad guys/gals seem to have some type of charm or likable quality that draws me in. Or maybe it's just that they're portrayed as being *so* evil that I can't see them being any other way.
So what I think I liked most about Colton and Sarah was that they appeared to be in an opposites attract situation. But there was a lot more to our rock star and judge's personalities than you would expect at first glance. Like Colton…poor Colt was dealing with a lot of issues that I can't explain or I'll spoil the whole thing. But suffice it to say that underneath the swagger and dirty talk, he was such a good, kindhearted soul. I *loved* Colt. Yep, he made some bad decisions. But they came from good intentions. And Sarah was a firecracker underneath her black judicial robe. She wanted romance and wanted to have fun but her career came first. Always. And she had her childhood to thank for that. But when Sarah and Colt were together? I like to think they brought out the best in each other. They were playful and flirty with loads of chemistry between them, but they ended up also being protective of one another, even at the risk of being in harm's way themselves.
Leather Pants will certainly keep readers guessing as to how things will work out for this dynamic duo in the end. But end well, it definitely did. And for those who have read Tailored for Trouble (book one) you'll be happy to see Taylor and Bennett–as crazy in love and comical as ever– throughout this story as well. Yay!
Book Info:

Publication: Expected publication: March 3rd 2017 | P&S, Inc – A Mimi Boutique Novel | Happy Pants #2
From New York Times Bestseller, Mimi Jean Pamfiloff, Comes Book #2 of The Happy Pants Cafe Series.
It Only Takes One Hot Rock Star To Ruin Your Life…
The youngest woman to ever sit on the bench, the Honorable Sarah Rae Alma has busted her butt to get where she is. No fun. No distractions. And definitely no bad boys. In fact, she takes a certain pleasure in crushing their souls–yes, she has her reasons.
So when rock-n-roll's most famous bad boy, the legendary Colton Young, enters her court, looking hotter than sin and smugger than hell, she's just itching to serve a little justice.
But Sarah's about to make the biggest mistake of her life. And her fate will land squarely in the hands of the world's most notorious rock star rebel.
Will he crush her? Or will he tempt her to take a walk on the wild side?
(Approx. 85,000 Words – 360 Pages)