The Lone Star Cinderella by Maureen Child: Dave Firestone has achieved great success with his ranch, but striking a deal with TexCat will put an official seal on his beef as the best. There's only one problem: the owner of TexCat is a conservative man who only does business with family men, and Dave doesn't believe in love and marriage. To Dave, a contract is a lot more binding than any love he's ever seen. Beyond his single status, there's the fact that one of his business rivals is missing, and he may be a suspect. Dave has to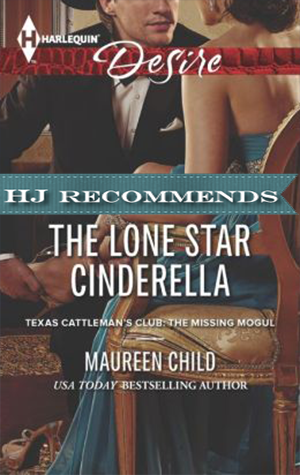 make sure he is no longer under suspicion in Alex's disappearance, and find a way to convince the owner of TexCat he's a family man, but how?
"He wanted that contract. And what Dave Firestone wanted, he got. Period. He'd clawed and fought and earned his success the hard way. Not a chance in hell he'd stop before he was finished."
Mia Hughes is in dire financial straits because of her boss' disappearance. She has been able to pay the bills using the household account, but that money is nearly gone and she hasn't been paid for months. Her tuition for her last semester of school is due and the cupboard is bare. She's going to have to do something fast to stay afloat.
When Dave visits Mia to find out if there's been any movement on Alex's disappearance, he sees the solution to his problem. Dave's business instincts tell him that Mia would make the perfect faux fiancée, and he can leverage her need for money to get her to agree.
"Staggered, Mia actually swayed on her feet. That was a tremendous offer. If she didn't have to pay back school loans, she could build a life for herself much more quickly. Glaring at him, she said 'You're really evil, aren't you?' He grinned, fast and wicked. 'Just a master negotiator.'"
Even though Dave has the mutually beneficial contract on paper, he can't seem to keep the terms so black and white with Mia providing a sweet temptation. But is he willing to extend his contract with Mia from one month to forever?
I really liked The Lone Star Cinderella. Since fake fiancées are a favorite trope of mine and Maureen Child is a favorite author of mine, I was prepared to fall in love with the story, and Dave and Mia delivered. I could really sympathize with Mia's predicament. I could also understand how Dave could seek sanctuary in contracts instead of taking a risk on promises that could be easily broken. I was intrigued by the other romance that was sparked in The Lone Star Cinderella, and I saw the potential for a few others to arise among the supporting characters, which made me hopeful about the prospects of the series. Maureen Child's sense of humor is one of the things I love about her, and it was spot on in this book as well.
While I liked the subplot of the controversy with the daycare at The Cattleman's Club and the subplot of Alex's disappearance, having all of this going on in the background was a little much for me. I'm sure that these plots can be tied together at some point in the series and it will all make sense, but as a stand-alone book, these subplots didn't add as much to the story as I would have liked. Nevertheless, it wasn't difficult to follow and didn't detract from the story.
I would recommend The Lone Star Cinderella to anyone who likes faux engagements, mysterious happenings, small town gossip, a down on her luck but feisty heroine, and an analytical hero who can only hide behind his contracts for so long.
Book Info:

HJ Recommends
Published October 1st 2013 by Harlequin Desire (Book 2258)
A fake engagement at the Texas Cattleman's Club? It must be a fairy tale from USA TODAY bestselling author Maureen Child!
Dave Firestone has no intention of getting married, but he'll pretend anything if it means sealing a tough business deal for his ranch. Needing a spur-of-the-moment fake fiancée, he turns to housekeeper Mia Hughes. With her boss—and Dave's business rival—missing and her paycheck on hold, she accepts Dave's fantasy proposal. But when their pretend romance takes an unexpected turn into passionate nights, Dave isn't ready to let Mia go. Can the smooth-talking businessman negotiate a more permanent arrangement?