In For Love or Money by Tara Taylor Quinn, we meet Janie and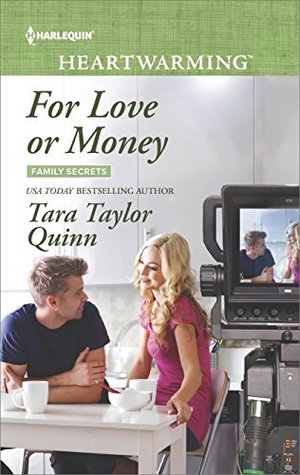 Burke, who are both single parents finding their way in raising their children, who are facing very difficult struggles.
Janie is raising a child with Down Syndrome and leaves no stone unturned in finding the best therapy for him and the best ways to help him achieve development and eventual independence. Burke, a surgeon who is a widower, is struggling with how best to help his teenage daughter- at an age where all teenage girls really need their mom. When Janie and Burke both land contestant spots on the cooking reality show "Family Secrets", these two families are thrown together, and the children form a touching friendship. Meanwhile, Janie and Burke form an at times uneasy friendship, ever aware they are competing against each other on the show. Janie's close friends, Corinne and Joe, prove that friends often turn into family, and are super supportive of her and her son. See what happens as the contest progresses and these families draw closer together, amid the tension of who will win.
This novel makes me want to read the first book in the "Family Secrets" series! Each of the characters were so warm and so real. Who wouldn't want to have supportive friends such as Corinne and Joe?! Who wouldn't feel touched by the love and affection Dawson shows to all he loves. It is an example of how kids with special needs, and later adults with special needs, help us see what really counts in life.
For Love or Money by Tara Taylor Quinn is definitely a "must read" and a true "feel good" story.
Book Info:

Publication: July 19, 2016 | Harlequin Heartwarming | Family Secrets
There's no way that struggling single mom Janie Young is going to lose Family Secrets. Not even to Dr. Burke Carter. The prize money and media exposure from the cooking-competition show will secure the future for her and her son, who has special needs. Sure, Burke is a talented chef with his own reasons to win, but he already has so much: wealth, a beautiful daughter, great looks…and definitely her attention. As their families become closer, Janie is beginning to care too much about him. But she can't afford to get involved. Not when everything is riding on beating him.