Top Shelf is Kelly Jamieson's third sports themed romance in the Aces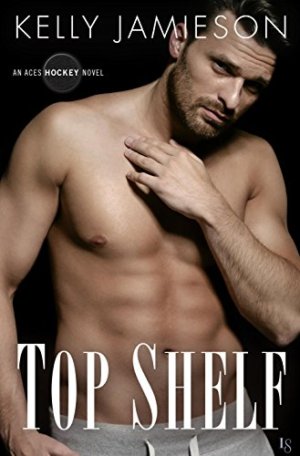 Hockey series, featuring dynamic and successful NHL players of the Chicago Aces. I've read and enjoyed the previous books in the series, each hero different in character but driven and hardworking hockey stars who find themselves slowly being pulled off the 'player' roster one by one, and into committed relationships. Ms. Jamieson has the knack of mixing just the right amount of heat and heart in her hockey romances while showing a clear understanding and love of the sport. This one happens to be my new favorite, with Sidney Frayne, an equally strong and business minded heroine earning the respect, admiration and love of team player and restaurant owner Jared Rupp.
Right off the bat, hats off to the cover gods because this guy has exactly the look of someone who plays and fights hard for what he wants, and that defines Jared to a T. Jared was raised by a single mom who struggled to keep him in hockey as a child, knowing how much he loved and excelled at the sport. He repaid her dedication by giving it his all, and becoming the successful player he is today. He's a friendly, competitive and intelligent man who knows that hockey isn't going to be his career forever now that he's reached his thirties. Accordingly, he's using his smarts to run a restaurant and bar, called the Sin Bin where the team hangs out after hours. When he meets entrepreneur and mixologist Sidney, her comments on the datedness of his drink menu (made without knowing he's the owner) convince him that he should consider hiring her to develop a business plan for improvements. Sidney is a little embarrassed to realize who Jared is, but smart enough to jump at the business opportunity in front of her. She's a former bartender, an award winner for mixing cocktails, and has taken her skills and schooling to launch her own business working with restaurants and bars to understand their clientele and upgrade accordingly. The troublesome part is the attraction she feels for Jared that is clearly returned. Getting involved with a client is definitely not the professional tone she wants to take, but being self-employed means the only one concerned about the fall out in the end will be her. She's still wary after a previous failed relationship with a cheating ex though, and commitment is the furthest thing from her mind. Jared might be able to convince her to have a fling with him, but when he realizes that it won't be enough for him, will he be able to convince Sidney to go all in?
Jared is fairly predictable hero material. He's charming, smart, and sophisticated. Having grown up as a have not, he makes up for it now with designer clothes, fancy cars and an appreciation for good food and drink ( good reasons for wanting his own restaurant to be notable). He doesn't lack for female companionship, and indeed there is an ex-girlfriend of sorts who plays into the story as a puck bunny who doesn't get the message that he's just not interested. When Jared starts seeing Sidney, he surprises himself by how quickly he wants to take their relationship to the next level, despite her reservations. The sex is hot (and Ms. Jamieson knows her way around a steamy scene), but he wants more. He wants to share more than just good times with Sidney. The hockey team is struggling, with rookie egos causing problems on and off the ice. More seriously, one of their own is losing his wife to cancer, a particularly poignant subplot in an otherwise easygoing story that affects all the players. Being able to talk about these things with Sidney makes him want to have her around permanently if she'll let him.
Sidney comes across as a focused and bright young woman. She's taken the skills she has and turned them into something viable, a fledgling career that is taking off as more and more restaurants acquire her services. It's not without its challenges though. What I particularly liked about her character (and the story in general) is that when she brings up her ideas to Jared and his restaurant manager she doesn't pander to Jared just because they are involved in a sexual relationship. She doesn't tell him what he wants to hear – she tells him what he needs to do to make his restaurant and bar top notch. Jared is reluctant to accept her suggestions, and she makes it clear that he doesn't have to make all the changes she proposes, as ultimately it's his choice. But she doesn't back down either, and I really liked seeing her confidence and forthrightness, traits that Jared admires even if he isn't sure of the way forward for his business.
There is a lot to like about this story. The main characters are engaging and clearly well suited. The romance is both sweet and very sexy as Jared tries to win Sidney over. The hockey players go through some rough times on and off the ice (and the on ice scenes are well described but not too technical for those unfamiliar with the sport). Readers who enjoy a good sexy sports romance should definitely put this story and the Aces Hockey series at the top of their list.
Book Info:

Publication: Oct 18, 2016 | Loveswept | Aces Hockey #3
Whether it's a clutch goal or a cocktail, nothing beats "top shelf." In this novel from the bestselling author of the Heller Brothers Hockey series, a fun-loving jock and an ambitious career woman mix business with pleasure.
Not only is Jared Rupp one of the stars of the NHL's Chicago Aces, he's also the owner of the Sin Bin, the after-hours hot spot where the whole team hangs out. Lately, Jared can't take his eyes off the woman he's hired to give the Bin a more modern feel: a sexy, sophisticated consultant who has carved out a niche updating drink menus. She's as passionate about her career as Jared is about hockey—and yet he can't help wondering what kind of cocktail she really wants.
In her line of work, Sidney Frayne is used to guys hitting on her in bars, but Jared gets her hot enough to burst into flames. When he's wining and dining her, he's sophisticated as hell; on the rink, he's a testosterone-fueled powerhouse. Still, Sidney's bitter divorce taught her to keep her emotions on ice. With her busy schedule—and Jared's playboy reputation—she's not sure she's ready for a fling. Because if she lets Jared into her bed, she just may have to let him into her heart.