In The Earl  (Devil's Duke #2) by Katharine Ashe, Colin Gray, the new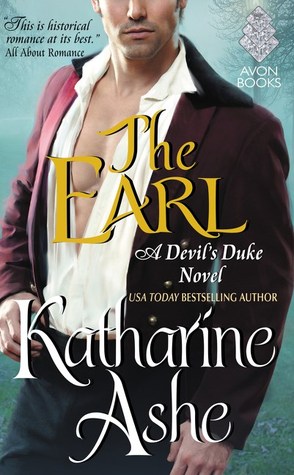 Earl of Egremoor, has had a very public dispute going on for quite some time with the supposed Lady Justice. Not that he has ever seen the person, whom he assumes is a man, who writes of the injustices against the poor and of women's rights. But Colin has a plan to lure this man out into the light. Before he can do so, he finds himself on a wild journey through Scotland with Emily Vale. A woman he has known all of his life. And with whom he has a complicated past which they must get past in order to eventually reach safety.
'Lady Justice must be stopped… He would publicly expose Lady Justice for a fame-seeking anarchist, and bring him down before any more people were seduced by his lies.'
Being Lady Justice means everything to Emily. She may live her life mainly in solitude, save for a few friends, but her voice is heard loud and clear through her popular pamphlets. When she finds out the true identity of her nemesis, The Peregrine, Emily is shocked. He is someone she thought she knew very well but obviously their years apart have changed him greatly. Searching for her sister in Scotland, Emily somehow teams up with Colin and is forced to ignore her anger–and their attraction–as they are pursued by locals over a misunderstanding. She longs to prove she doesn't need to rely on him or any man. But she's slowly realizing they might just work better as a team. Not that she'll ever admit it.
"Why must I continually demand that you get onto transportation?" he said impatiently.
"If you hoped for a docile female with whom to share this horrible adventure, you hoped in vain." But she took his hand and stepped gingerly into the boat.
The Earl was a grand but dangerous adventure for our hero and heroine as they trekked across the wilds of Scotland with others in pursuit of them. Attraction might have sparked wildly between Colin and Emily, but it was their old wounds that took center stage as they became reacquainted.
'He saw the world in terms of bloodlines, duty, and responsibilities. She saw the world as a place to improve for those who had little or nothing. They were fundamentally incompatible, no matter how well they got along when chased by furious men, and no matter the betraying sensations in her body.'
I think The Earl is a story that must be read all the way to the very final page before readers make up their mind about the protagonists and draw their conclusions. Because a LOT changes in the final quarter of the book. Both main characters reveal things that have been hidden for almost two decades which ends up explaining why they chose their particular path in life. And it would also be better if you've read some of the Falcon Club or even The Rogue, book one in the Devil's Duke series, so you have some background on Colin and Emily's tense relationship as The Peregrine and Lady Justice. But with some perseverance you could read this as a standalone as well.
Emily will likely be the one character who readers will feel the most strongly about. They will either love or hate her. I started off liking that she stood up for the common man and for women's rights. She was strong and obviously very opinionated. But it was when Emily met up with Colin after so many years apart that things went downhill for me in regard to her attitude. I usually love feisty female characters but at times Emily was just so stubborn in not wanting to hear other's views or opinions and with how she shut down all communication that it became frustrating. By the end, however, once those secrets were revealed by both her and Colin, it was clear why she chose to become Lady Justice. The reason why was also a very moving part of her story.
Colin was a rather complicated man. I won't give away what happened to him during his childhood that formed so much of his personality and led him on the path to be in the Falcon Club. But his past with his father as well as with Emily and her family was something that brought both joy and pain to his life. I thought Colin was a very honorable man, as one would have expected for the time period (Regency) but that he did long to shed some of his responsibilities, to give in to his own wishes at times. I started off not really sure of Colin as he seemed a bit harsh in some ways, but he proved to be a generous, caring man beneath the fancy clothes and the serious persona.
Emily and Colin fought against their attraction with everything they had but it still wasn't enough to keep them apart. If you like historical romances with some intrigue, passion, family issues, and interesting secondary characters, The Earl is for you.
Book Info:

Publication: October 25th 2016 | Avon | Devil's Duke #2
How does a lady of wit and courage bring an arrogant lord to his knees?
Entice him to Scotland, strip him of riches and titles, and make him prove what sort of man he really is…
Opposites…
Handsome, wealthy, and sublimely confident, Colin Gray, the new Earl of Egremoor, has vowed to unmask the rabble-rousing pamphleteer Lady Justice, the thorn in England's paw. And he'll stop at nothing.
Attract
Smart, big-hearted, and passionately dedicated to her work, Lady Justice longs to teach her nemesis a lesson in humility. But her sister is missing, and a perilous journey with her archrival into unknown territory just might turn enemies into lovers.