For the Love of Friends by Sara Goodman Confino: Five weddings and perhaps her own metaphorical funeral is the launch pad for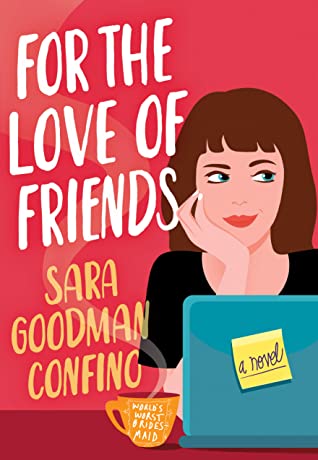 one seriously hectic summer in Lily's life that sets the scene for a crazy time that demands more then just the cash she doesn't have in her account.
Playing the role of bridesmaid in 5 very different weddings to friends and family that she has very different relationships with, including sister, future sister-in-law, work colleague, long time bestie and college room mate brings about a plethora of challenges that require Lily to navigate not only the bride's requests, but deal with mothers, other bridal party members and the reality that she woke up in a hotel having slept with one of the future groomsmen. Given she needs to keep things calm for her best friends Megan's big day, Lily remains determined to not know the true identity of her one-night drunken escapade, resolving to behave in the months leading up to the weddings.
But as one horrible dress fitting leads to another, and her dignity, body confidence and tolerance of her loved ones shortcomings ebbs, Lily starts to seriously question her single gal status. As a result, she puts her natural writing talent to the test to both vent her spleen and hopefully earn some cash to pay for the wedding bills. By starting an anonymous blog detailing her hilarious experiences and wry observations of brides-to-be and their posse, the blog becomes a vital element in her life allowing her to air the various horrors so she doesn't totally lose her mind when it matters the most.
The witty observations throughout were golden from beginning to end, and Lily's sense of self was admirable for the most part. Whilst her ability to hold her tongue was courageous, at times, it was also a source of frustration. Initially, the narrative style shifted a little which impacted flow, however, once four chapters in, it was definitely a super fun ride to the very end. After developing a very sweet and beautifully honest friendship with Megan's other groomsman Alex, Lily tackles the real existential crisis throughout it all and comes to realise that whilst she is happy with her life, everyone else around her expects her to be someone else or doing something more, and therefore, the very real 30s something pressure was a key theme throughout.
Hence, there was very clear intent to highlight that finding your voice when it is drowned out in a sea of expectation must be done with honesty and care, particularly when it comes to valuing your friends and equally valuing yourself. Overall, this was a cleverly crafted romantic comedy that I highly recommend, making some powerful albeit dry observations about love, friendship and the enduring nature of marriage.
Book Info:

Publication: 1st August 2021 | Lake Union Publishing |
Lily Weiss is her mother's worst nightmare: thirty-two and single—the horror! She's also a talented writer but hides behind a boring job at a science foundation. To her friends, she's reliable and selfless, which is how she winds up a bridesmaid in five weddings in six weeks. Anything for her three best friends and two (younger) siblings, right? Even if her own love life is…well, she'd rather not talk about it. To keep her sanity, Lily needs a safe place to vent.
And so her anonymous blog, Bridesmania, is born. The posts start pouring out of her: all the feels about mom-zillas, her vanishing bank balance, the wicked bridesmaids of the west, high-strung brides-to-be, body-shaming dress clerks, bachelorette parties, and Spanx for days, not to mention being deemed guardian of eighty-eight-year-old Granny (who enjoys morning mimosas in the nude) for her brother's destination wedding.
So far the blog has stayed anonymous. But as everyone knows, few things online remain secret forever…
When all is said and done, can Lily help all five couples make it to happily ever after? And will her own happy ending be close behind?