Accidental Homecoming by Sabrina York: Danny Diem suffered through a horrific childhood with a selfish, neglectful mother. If that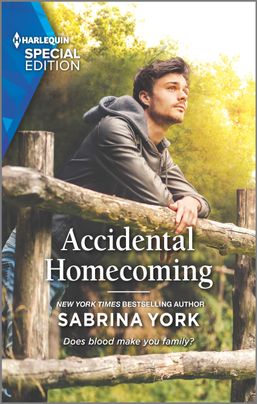 weren't enough, now she has cleaned out his bank account, credit cards and everything she can pawn from his home. He has never known who his biological father was and his mother has told him that the man didn't want anything to do with him. Danny ends up having to get a loan from a Las Vegas loan shark. Just when his life seems at its lowest point, he receives a letter that he is part of an inheritance from his biological family. He goes to a small town in ranching country to see what that involves.
Lizzie and Danny broke up about six years before because he was afraid his early life would make him poor candidate for marriage. Lizzie didn't tell Danny at the time of their breakup that she was pregnant. She has raised her delightful daughter on her own. Now Lizzie has to reach out to Danny in the hopes her might be a donor match to help treat Emma's devastating aplastic anemia. How will Danny cope with finding half brothers and a child he never knew?
I love that Danny's half brothers may have been a little leery about him at first, especially Luke, but they show that family is made up of many things including being there for someone when life is rough. It was encouraging that Danny could take to a new way of life, learn some truths and move on from his past.
Lizzie is a strong woman who has changed her life to be there for her ailing daughter. She is a true example of unconditional maternal love. Patrice, Danny's mother, is the polar opposite. I couldn't see any redeeming features in her. You can only think that something in her past twisted her.
Danny seems to make an about turn on his previous lifestyle and it looks like he will be a good daddy and husband.
Luke was another character that appealed to me. He had suffered physical and emotional wounds. The love of a small child seemed to heal him in so many ways. Little Emma "steals the scene" in every part she is included. Her precocious nature and loving spirit can warm the heart.
This is my first novel by Sabrina York. She certainly knows how to craft a story that encompasses romantic and family love. Accidental Homecoming is the first in a mini-series. I hope to visit Stirling Ranch again in book #2.
Book Info:

Publication: July 27, 2021 | Harlequin Special Edition | The Stirling Ranch #1
New York Times bestselling author Sabrina York kicks off her brand-new Stirling Ranch miniseries by asking does blood make you family?
It's time to face the past he's been running from.
Danny Diem's life is upended when he inherits a small-town ranch. But learning he has a daughter in need of lifesaving surgery is his biggest shock yet. He'd never gotten over telling his ex Lizzie Michaels that he wasn't the marrying kind. But her loving strength for their little girl tugs at his heartstrings—and makes him wonder if he's ready to embrace the role he's always run from: father.
From Harlequin Special Edition: Believe in love. Overcome obstacles. Find happiness.
The Stirling Ranch
Book 1: Accidental Homecoming
Book 2: Recipe for a Homecoming