For This Christmas Only by Caro Carson is the third book in the Masterson, Texas series. This was a new-to-me author and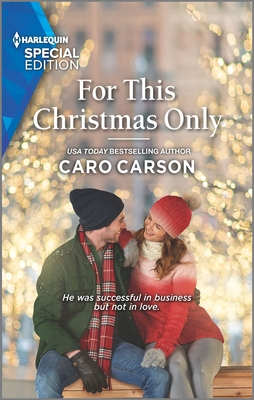 I really enjoyed reading her book. It was paced perfectly and had an interesting storyline. The characters were charming and so easy to connect with. It was an entertaining book and kept my interest until the end.
Eli Taylor also known as E.L. Taylor; a well-known wealthy business entrepreneur who had written a book called How to Taylor Your Business Plan. He had barely survived a tragic plane crash recently when the pilot had to land the small plane in a lake. He still had nightmares of the crash and as the plane was going down all he could think of was he had wasted his life. No one would grieve or miss him because he had pushed his family and kept other people out of his personal life for so long after becoming known as E.L. Taylor. With his therapist's help, he was slowly learning how to open up and reach out to his siblings. He decided to teach a semester at his old college, Masterson University and he never anticipated meeting someone like Mallory. She didn't recognize him at the town's Yule log lighting, so he was able to just be Eli with her. At the end of the evening when he learned that he, E.L. Taylor, was her hero, he knew she would never see him as she did that night after she learned his true identity.
Mallory Ames had finally been strong enough to tell her family she was done being the family caretaker. She was going back and finishing her final year of college and earn her bachelor's degree in business. Reading the book by E.L. Taylor had helped her realize she needed a plan that she could stick with and never look back at her past. She was determined to gain financial security and become a successful CEO of her own company. She spent all her money getting to Masterson University and was close to finishing her last semester at Masterson University. She was hoping to meet E.L. Taylor when he was a guest professor at the college and get him to invest in her first business. She went to the town's Yule log lighting wanting to reflect on turning twenty-nine and her life but was interrupted by three college boys. Trying to escape them she invented a fake boyfriend and seeing Eli by himself, she quickly pretended he was her boyfriend. She was furious when she discovered who he truly was and avoided him. But she had limited options when the college shut down for the holidays and she needed a place to stay. He invited her to stay with him and as their relationship as friends grew, she realized that under his arrogant and intimidating exterior there was a lonely man who needed a friend.
I found the book to be a cheerful holiday book. Both characters had discouraging events that happened in the past, but they didn't allow that to hinder them from reaching for their goals. If you are looking for a holiday book to lift up your spirits this is the perfect book.
Book Info:

Publication: December 1st 2020 | Harlequin Special Edition | Masterson, Texas #3
His book inspired her to return to school
But he no longer believes his own advice
After nearly dying in a plane crash, financial guru Eli Taylor wants to find meaning in his life. A chance encounter at a small town's Yule log lighting leads to an evening spent as the fake boyfriend of his superfan Mallory Ames. When she finds herself homeless for the holidays, he invites her to stay with him as his fake girlfriend, so he can show his siblings what a loving partnership should look like. The arrangement will end when the new year begins…or will it?