In Forbidden Knight with the Duke by Annie Claydon, Megan Wheeler and Jaye Perera have amazing chemistry, but she's not about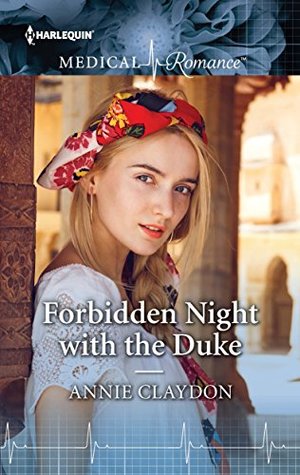 to act on her feelings for fear of losing the best job she's ever had. With the pair working side-by-side in Sri Lanka, Megan discovers there's more to Jaye than she realized. Will the pair be able to learn to trust again, so they can achieve happy ever after they both deserve; or will they go their separate ways because neither are ready to give the other a chance for fear the relationship could go awry?
"I'm looking for an employer who I can trust. That's non-negotiable."
"It's non-negotiable for us, too. I think we should talk about this, Megan."
"There's nothing to talk about. Actions speak louder than words."
This is the first book I've read by Ms. Claydon, and I've got to say that she delivers a very engaging read where the heroine discovers how wrongly she's misjudged the hero because of something that happened in the past; the hero does everything possible to make the heroine see that she's a good fit for the program he runs; and the fast-paced storyline had me wondering whether the heroine would give the hero a chance sooner rather than later. Does she really see Jaye as forbidden?
'Working abroad for a charity is something that many medical professionals aspire to, but the truth of it can be a little different from the theory. You'll be faced with hard work, challenging conditions, frustration and more than a little heartbreak. It won't matter that the pay's not what you could hope to earn in other fields, because you probably won't get much of a chance to spend it."
The way this story started drew me into the story immediately, as Megan is excited about the opportunity she's about to partake in, but working alongside Jaye is also dangerous to her well-being because she's attracted to him and he'll be her boss. However, it was from the moment the hero and heroine come face-to-face for the first time that had me really intrigued because of the history between these two since Megan treats Jaye like he's her enemy at first. Will Jaye be able to make Megan understand why he abandoned his ex? Will Megan realize how wrong she is about Jaye?
Both the main characters are delightful and I loved every moment these two conversed, as Jaye's ex did a real number on him and it's hard for him to trust while Megan has always felt like second best when it comes to her father and his affections. Will Megan and Jaye be able to put their trust in each other? Moreover, the heroine has done well for herself in becoming the smart, independent woman she is and I liked that she finally stood up to her father than hasn't shown any interest in her until something happens in his life that makes him want her in his life. I also liked how determined she was to do her job and how good she is at it, especially when it comes to the medical emergencies she handles. Yet, what I liked most of all about the heroine is how she shows Jaye that she's different from every other woman that's ever been interested in him. Will the hero realize how good Megan is for him before it's too late?
"The headmaster at my school told me that I was different. That I was going to have responsibilities and that I had to be prepared for them."
"That's no kind of thing to tell a nine-year-old…" Outrage flashed in her eyes.
"Maybe. He was right, though. People treat you differently when you're a duke. It's the first thing they notice about you, and some people don't bother to look any further."
While the hero, it's hard for him to put his trust in people — especially women — because he's a duke and people expect things, which is proven by the reasons why his ex wanted to marry him. However, in saying that, I liked how determined the hero was to prove to the heroine that he wasn't at fault with what happened between him and his ex. Then again, his ex sounded like a manipulative witch that didn't deserve Jaye and his kindness. Yet, what I liked most of all about the hero is his confidence, his charm and how determined he was to win over the heroine, especially when she was so determined to fight their strong chemistry because he's her boss.
He wound his arms around her shoulders and she clung to him. "I really wish you'd stop crying…"
"Happiness, Jaye. You're going to have to get used to it."
"I suppose I will. Because it's my job to make you happy now, and I intend to do it well."
Megan laughed against his chest. "Consider yourself employed. No trial period."
Overall, Ms. Claydon has delivered a wonderful read in this book where the chemistry between this couple is intense because it seems Megan sees Jaye as the enemy at first because of what happened between him and his ex; the romance was heady and showed how good Jaye is for the heroine and vice versa; and the ending had me loving the lengths the hero went to in winning the heroine back after things go awry between them. However, it was the epilogue that wrapped this story up perfectly, because of the surprise the hero had for the heroine. I would recommend Forbidden Knight with the Duke by Annie Claydon, if you enjoy the enemy to lovers trope or books by authors Amy Ruttan, Dianne Drake, Louisa Heaton and Carol Marinelli.

Book Info:

Publication: January 1st, 2018 | Harlequin Medical |
One stolen kiss…
Nurse Megan Wheeler won't let that passionate kiss, or the way she feels about Jaye Perera, ruin her dream job. Yes, he may be a duke, a doctor and devastatingly handsome but he's also her future boss, and that's a boundary she won't—can't—cross!
But working side by side under the Sri Lankan sun is a delicious torture. One that reveals to Megan a different side of guarded Jaye… After the hurts they've both experienced, can they learn to trust in love again?