Forbidden Promises (The O'Malleys #4) by Katee Robert is another amazing edition in the O'Malleys series that will keep the reader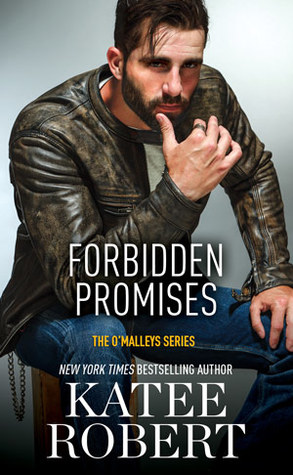 on the edge of their seat. I have read every book in this series and I would highly recommend it to anyone, but you should really read it from the beginning so that you can get the entire dynamic between all of the characters. This story features characters from the past books and focuses on Sloan O'Malley and Jude MacNamara.
Sloan O'Malley knows what her future holds, being married off to someone she does not choose, to advance the family power base. Not wanting to be a pawn in the power game of the Mob, she escapes with the help of her brother , Teague, and is hidden away in a little seaside town, where she hopes her family and their enemies will not find her. What she did not count on was her hot, sexy brooding neighbor Jude.
Jude MacNamra is in the sleepy little seaside town to exact his revenge. He is the last of the MacNamara's, his father, brothers and their wives killed before he was born he was raised by his mother to seek revenge on the Sheridans, until they all payed for what he lost, what his mother lost. What Jude did not count on was Sloan. She is shy and sexy, but underneath that nervousness, there is a strength that he did not anticipate.
But when their enemies threaten Sloan, when her family comes after her, and when Jude is about to be setup, Jude and Sloan will return to Boston, set things to right and demand their freedom to live a life without fear of retribution.
I loved that Jude was so protective of Sloan, even before the little surprise that shocks the heck out of both of them, he wants to stand between her and the world, he wants to be something that he has never been, a protector, not a hired gun. I loved that Sloan, the meek and quiet sister, stood up to both her brothers and would fight for Jude, would have his back when she understood that nobody else would. It was exciting to see how much Sloan grows and the strength she finds when she is with Jude, and it is sweet to see how Jude is tender with Sloan, but still has that tough exterior and will plow through anyone that would try to keep them apart.
I look forward to the next book in this series, because I have a feeling that baby sister Kiara is going to be an amazing read.

Book Info:

Publication: May 30th 2017 | Forever | The O'Malleys #4
New York Times and USA Today bestselling author Katee Robert delivers the next book in her sizzling O'Malleys family series, hailed as "The Godfather meets Romeo & Juliet." FORBIDDEN PROMISES features Sloan O'Malley and her mysterious new next-door neighbor, Jude MacNamara.