Forbidden to Want by J.C. Harroway  is a sexy and thoroughly enjoyable start to her new Billionaire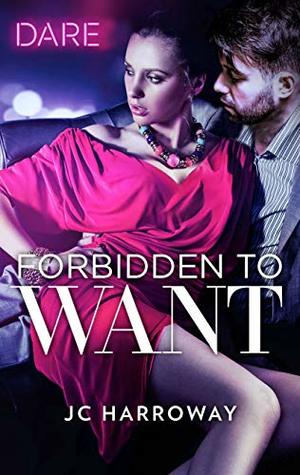 Bachelor series!
When Kit Faulkner lost his wife on an adventurous vacation a few years earlier, he blamed himself and cut himself off emotionally from getting involved with another woman for anything other than hookup sex. Working in the family hotel business, he's in charge of the elite hospitality that their patrons crave and can afford. When his brother Reid brings a new woman on board to create a promotional film for their business, he's immediately attracted to her, but would rather sleep with her once and be done then have her shadow him for 3 weeks for film footage.
Mia Abbott isn't at all put off by Kit's attitude, nor her attraction to him. She's got a job to do and the contract has been signed – she'll get her fee no matter what. Equally attracted to the brooding businessman, she lays her cards on the table. She's up for a fling, sure, but she plans to make the promo film combining Kit's company Bounty Events and what it can offer the Faulkner hotel group with or without his help. They agree to a truce, and that Kit will show Mia around London to a selection of the sites to highlight in her promo film. They'll also engage in some mutually satisfying knock your socks off sex, with a definite end date. But as they learn more about each other and get under each other's skin, will a short time fling be enough?
I'm a big fan of this author and her previous Dare books, so I'm on the lookout now for her new ones and this lived up to my expectations! The timing of Kit and Mia's first meeting happens to coincide with the anniversary of Kit's wife death, which explains his fairly rude attitude. It improves once Mia knows that he's a widower and he apologizes for his behavior, knowing he'd taken his grief out on her unfairly. As they get to know each other, Kit's true personality gets revealed a little more every day, and he starts to remember what it was like to be happy.
On the outside, Mia is a breath of fresh air, a woman who knows herself and her passions and lives life fully. But she's hiding some pretty complicated emotions. Finding out she was adopted rocked her stable world, and while her brother has settled down with a partner in London and is getting ready to adopt a baby, she's continued to move from one country to the next, one project to the next, without setting down roots. With Kit, she starts to yearn for more than her transitory life, but unless he steps up to the plate, she'll be off to her next destination. Things come together for them and they get the happy ending they both deserve. It's an exciting, sexy, and emotional romance and a great start to the new series! I'm looking forward to reading more about the Faulkner family.
Book Info:

Publication: Jan 01, 2019 | Harlequin Dare | Billionaire Bachelors #1
One delicious hookup deal
One rule—no falling in love
Mia Abbott never backs down from a challenge—especially one posed by sexy widowed billionaire Kit Faulkner. He's dark, dangerous, damaged—and pure, raw sex appeal. And for the next three weeks, he's also Mia's boss. The rules of their wicked engagement? No romance. Only, one night together isn't enough. They're about to discover that the most forbidden things are also the hardest to give up…