In The Greek Claims His Shock Heir (Billionaires at the Altar #1) by Lynne Graham (HQN), When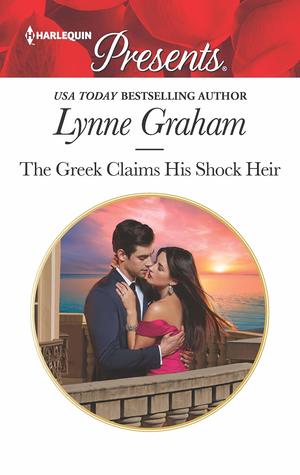 personal chef Winnie Mardas fell for successful businessman Eros Nevrakis, she had no idea that their sublime connection would be severed with a lie of omission. And once she found out she was pregnant, Winnie knew that she was better off not notifying Eros and risk things becoming even more complicated. But Eros finds out about his son anyway. And he soon puts together a plan to have both his son and Winnie in his life. Permanently. Now if only she'll get on board with his idea…
'The same passionate attraction that had blind-sided them the first time around hadn't died and hadn't been conquered by common sense or pride or even guilt.'
Power struggles, deception, and instant chemistry made for an intense romance in The Greek Claims His Shock Heir. Lynne Graham bumped up the heat level even more once our hero and heroine reunited after a year or so apart, and being as this was set mainly on a beautiful Greek island, I have a feeling that the location didn't hurt matters any either. The family drama was also abundant, with Winnie's grandfather scheming and trying to run her life as well as that of Eros. So it created lots of tension and put a wedge between our couple from the moment they rekindled their romance. (Note: Winnie's two sisters will both have their own romances coming up in sequels soon.)
Lynne Graham had some wonderful dialogue and emotional exchanges between Eros and Winnie, as well as both of them with her grandfather. Those scenes pretty much swept me away and made me want to rush through them to see what could possibly happen next. I will admit that I wasn't a fan of how controlling Eros (or Winnie's grandfather) was. The lack of communication on Eros and Winnie's part, not being fully honest with each other, seemed to be a theme between them from their first moments together right up until their final blow out argument toward the end of the book. But I did like the connection Winnie and Eros had when it was just the two of them together. It was sweet and passionate and the stuff that forever is made of.
A combination secret baby trope and second chance romance, The Greek Claims His Shock Heir will certainly hold a romance fan's attention and draw you in with the dramatics and overall storytelling.
Book Info:

Publication: January 15th 2019 | Harlequin Presents | Billionaires at the Altar #1
The billionaire's discovered her secret…
She's had his son!
After learning of tycoon Eros Nevrakis's betrayal, personal chef Winnie Mardas walks out of his life, determined to never look back—or reveal the child she's carrying… A year later, she's shocked when Eros arrives to legitimize his heir! Swept away to his lavish Mediterranean villa, Winnie is overwhelmed by the fire still burning between them. But can she accept her new role as his convenient wife?
Lose yourself in this dramatic secret baby story!