Forever on the Bay by Lee Tobin McClain: Evan Stone has many regrets in life, but he is finally on a good path. He has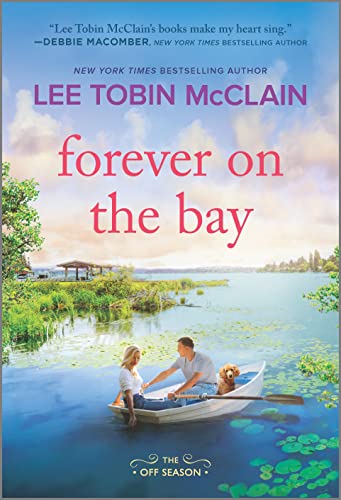 overcome alcoholism and is a police officer in the small town of Pleasant Shores where he has made friends and finally feels like he has found a place to belong. When Cassie, his late best friend Josh's sister, calls asking for help, he drops everything to help her. He had promised Josh two things the last time he had seen him; one-he would watch over her and help if she needs it, and two-he would never pursue her romantically.
Josh knew Evan's past and the struggles he faced and wanted someone better for Cassie. Having her live next door and collaborating with her to discover Josh's killer makes it hard for him to honor his promise. To complicate things his son Oliver who he hasn't seen in years arrives and is following in Evan's footsteps.
Cassie Thomas had survived cancer as a child and since then she has been very sheltered by her family. She had lived with her brother but after witnessing Josh being murdered, she moved home to comfort her mother. She longs to be independent and moving to Pleasant Shores for a few months will give her the opportunity to grow her business of making lookalike dolls for kids with serious illnesses. When the investigation into Josh's death gets put on the back burner, Evan decides to look into the case. Cassie refuses to be left behind but as a witness to the murder, her life is in danger.
This was a beautiful story of regret, grief, justice, and starting new lives. Evan regretted the choices he made when he was younger and choose to drink alcohol rather than face his emotions. He had lost years of being a father to Oliver but wanted to have the chance to build a relationship with him. Evan wanted to have love and a family but felt he was too damaged and too much of a risk with his history of alcoholism. Cassie had been sheltered most of her life and had come to accept that no man would want her enough to deal with all her problems. Cassie's past had given her strength and courage and it was amazing to see her grow and become independent and more confident in herself. This story was inspiring, and will touch your heart, and I highly recommend reading it.
Book Info:

Publication: April 26, 2022 | Harlequin Books | The Off Season #6
Safe harbor and new beginnings await on the Chesapeake Bay…
Pleasant Shores cop Evan Stone has worked hard to become a man of his word, overcoming the alcoholism that sent him down the wrong path in his youth. So when his late best friend's sister asks for his help, he doesn't hesitate. He promised he'd watch out for Cassie, and the cottage next to his will be a perfect short-term refuge for her and her dog. The other half of that promise—to stay away from Cassie romantically—is harder to keep.
Sheltered for years because of a childhood illness, Cassie is ready to reach for what she wants. And despite her family's warnings and her own fears, Cassie's heart wants Evan. As the return of his estranged son puts his sobriety to the test, Cassie and Evan are drawn together, finding strength through what they've each weathered. She knows Evan would risk anything to protect her, but are they willing to risk the price of loving, now and forever?