Rules for Engaging the Earl by Janna MacGregor is the second book in the new The Widow Rules series. I enjoyed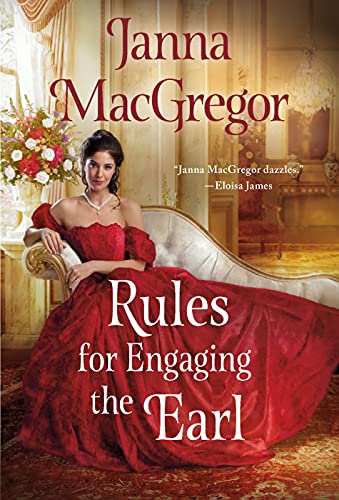 this book more than the first book in the series because I found it easier to connect with the characters and their emotions. The history the two main characters shared together added more depth to their relationship. They had been good friends as youths but never thought they would meet again when Jonathan left for war.
Ten years after he left England, Constance reached out to Jonathan for help. She discovered her late husband had married two other women and left them all destitute. She was pregnant and needed to marry before her baby was born. Even after discovering she was the true Lady Meriwether, Constance wanted to marry Jonathan. She still felt the connection from their youth and knew he would be a good father to her child.
Jonathan Eaton, Earl of Sykeston, returned from war with physical and emotional scars. He was no longer able to serve his country due to his leg injury, but he still wanted to contribute by designing a better pistol cartridge for soldiers. Also, he wanted to start a school to train army marksmen, but rumors questioning his service have started, and a potential court-martial. He does not want to risk harming Constance's reputation, so he isolates himself at his country estates with his work.
"I could never leave you. Your love brought me home. You're the moon to my sea. You bring me into the light, just like the moon brings the tide."
Constance was such a wonderful woman. She was resilient even when her reputation was ruined. Her unwavering support and love for Jonathan slowly chipped at the walls he had built around his heart. He was afraid to risk his heart and be vulnerable after he was injured. He had let his injuries define him and thought he was too damaged and unworthy of Constance. But Constance reminded him of a more joyful and happy time in his life and made him want to be a better man.
Book Info:

Publication: April 26, 2022 | St. Martin's Paperbacks | The Widow Rules #2
Constance Lysander needs a husband. Or, so society says. She's about to give birth to her late husband's child―a man who left her with zero money, and two other wives she didn't know about. Thankfully, she has her Aunt by her side, and the two other wives have become close friends. But still―with a baby on the way, her shipping business to run, and an enemy skulking about, she has no time to find the perfect match.
Enter Jonathan, Earl of Sykeston. Returned war hero and Constance's childhood best friend, his reentry into society has been harsh. Maligned for an injury he received in the line of duty, Jonathan prefers to stay out of sight. It's the only way to keep his heart from completely crumbling. But when a missive from Constance requests his presence―to their marriage ceremony―Jonathan is on board. His feelings for Constance run deep, and he'll do anything to make her happy, though it means risking his already bruised heart.
With Constance, Jonathan, and the new baby all together, it's clear the wounds―both on the surface and in their relationship―run deep. But when the nights come, their wounds begin to heal, and both come to realize that their marriage of convenience is so much more than just a bargain.