In Forever with You (Wait for You #5) by Jennifer L. Armentrout, Stephanie Keith is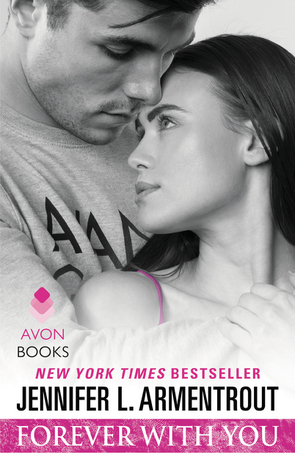 finally out of college and moving into her first apartment, getting ready for her first full-time job. But some old habits never change. Like her views on romance. Casual flings are just fine with Steph as long as both people involved know the score and no one is getting hurt in the process. That's why her one-night of crazy hot loving with bartender Nick Blanco seemed like a good idea. Until she couldn't stop thinking about him after the fact.
'I held out waiting for the perfect guy–the perfect relationship. I never fell for anyone I'd been with… Ironically, it was the most imperfect situation and imperfect guy who was capturing my heart.'
Steph's feelings for Nick, as well as the situation they find themselves in, changes her plans completely. She always dreamed of settling down one day as part of a love match that would rival her parent's epic relationship. But everything is happening so fast with Nick and just at the beginning of her career working in the offices at Lima Academy for Mixed Martial Arts training. Steph's resolve and new found bond with Nick will be put to the test as she receives devastating news, leaving them both to wonder where they go from here.
"I wasn't screwing around when I said I didn't do relationships, but with you–with this–this is different. Yeah, it was a big damn surprise." His thumbs smoothed along the line of my jaw. "But there's not a single part of me that doesn't realize how lucky I am."
Book five is finally here, Wait for You fans! And not only did Jennifer L. Armentrout give us two characters who were oh so right for each other, but she wrapped them up in a situation that would have them evaluating everything they thought they knew about love.
I've been a fan of the Wait for You series since book one and with each new installment things keep getting better and sexier. But I'll admit that I was a bit leery of reading Steph's story. She was 'that girl'. You know the one I'm talking about. The fun, flirty college girl who pulled no punches and was known to enjoy no-strings-attached hookups. If you've been following this series then you know her past with Cam and Jase, which made for some interesting moments in this book. But if you're new to this world, no worries. It gets explained in a way that makes it easy to catch right up.
After getting to know Steph, I actually liked her every bit as much as I have the other characters Jennifer L. Armentrout has created. Maybe even more so, because Steph didn't play games. She was straight-up honest and owned her actions. I've gotta respect that. And it turned out that she was a very intelligent, thoughtful woman who had overcome family tragedy in her past and did the best she could to move forward. I felt like not only did the other characters learn to not take her at face value or believe rumors, it reaffirmed that message for me as a reader in my own life as well.
Of course it wouldn't be a Wait for You story without two key factors: drama and heat. And good heaven above, there was definitely both. It wasn't just sparks flying between Nick and Steph. It was fireworks. There was no doubting the chemistry they shared. I liked how they were both on pretty much the same page in terms of relationships. They only wanted a casual hookup. But things were intense right away and it was fun to watch them both deny what they felt. Steph holding out for the kind of love her parents had was seriously sweet, although it wreaked havoc with her mind when it came to Nick and his intentions. Oh, the delicious drama!
Tough decisions. Hot love scenes. Tragedy. Tender romance. Forever with You had all of that and so much more. Let me tell you…this is one author who absolutely knows how to write a perfectly balanced, entertaining New Adult story.
Book Info:

Publication: September 29th 2015 | by Avon | Wait for You #5
In the irresistibly sexy series from #1 New York Times bestselling author Jennifer L. Armentrout, two free spirits find their lives changed by a one-night stand…
Some things you just believe in, even if you've never experienced them. For Stephanie, that list includes love. It's out there. Somewhere. Eventually. Meanwhile she's got her job at the mixed martial arts training center and hot flings with gorgeous, temporary guys like Nick. Then a secret brings them closer, opening Steph's eyes to a future she never knew she wanted—until tragedy rips it away.
Nick's self-assured surface shields a past no one needs to know about. His mind-blowing connection with Steph changes all that. As fast as he's knocking down the walls that have kept him commitment-free, she's building them up again, determined to keep the hurt—and Nick—out. But he can't walk away. Not when she's the only one who's ever made him wish for forever . . .