Second Helpings at the Serve You Right Cafe by Tilia Klebenov Jacobs: Having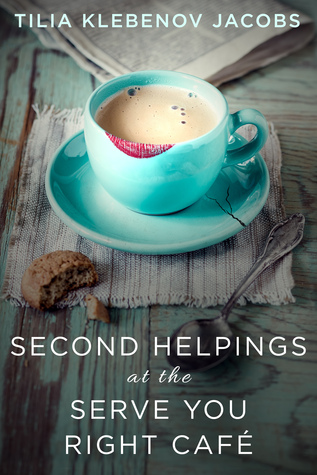 picked up culinary skills while in prison, Emet finds himself working at the Serve You Right Cafe upon his release. Here he finds acceptance; no one judges him for his past. He asks out Mercedes, but is scared to tell her where he's been the past ten years.
Mercedes is dealing with her own issues. Her mother is now living in an assisted living home. Her brother is an unemployed stoner who thinks it's her job to take care of him. All Mercedes wants is to be free from both of them.
Emet and Mercedes hit it off immediately; on their first date he feels comfortable enough to confide in her about his prison stint, and she opens up to him about her family. When her brother, Clay, thinks that Emet is trying to turn Mercedes against him, he comes up with a plan with his online gamer friends to get Emet out of the picture. Only Clay doesn't count on coming up against not only Emet and Mercedes, but also the owner of the café and it's patrons.
We not only learn of the history of Emet and Mercedes, but also of Eden Rose, the owner of the café. She gives Emet a chance because she herself needed help once when she was a recovering alcoholic.
"Oh," she said. "Well, I didn't know if you deserved a second chance or not. But if you didn't, then probably I didn't either. And I don't know if I deserved it, but I got one, once, a long time ago. So I was willing to take the risk."
Several serious topics are covered in this story, including drug addiction, alcoholism, and manslaughter, but Eden Rose supplies a lot of comic relief to counteract them.
Now it was Eden's turn to be outraged. "A doughnut shop? On your way to work at my café?"
"It just happened," protested Emet. "It meant nothing to me, I swear."
"Tell it to the scones," said Eden. "They're the ones you've really betrayed."
Another example is this conversation she had with Mercedes.
Mercey leaned down and smoothed the pillow, which did not need to be smoothed. "You don't need this–midnight info dump."
"Nonsense," said Eden Rose. "I live for the midnight info-dump. In fact, when I got up this morning I said to my cats, 'You know what's missing in my life? A late-night confessional to curl my toes'
In Second Helpings at the Serve You Right Cafe, Tilia Klebenov Jacobs has written a beautiful story about second chances, both giving and receiving them. It shows that what you think you know about a person isn't necessarily true because you can never really know what has happened in their lives until they confide honestly in you. Sometimes it's about taking a chance, having an open mind, and giving them a safe place to land.
Book Info:

Publication: April 5, 2015 | Linden Tree Press |
What if the world didn't want you to go straight? Out on parole after almost ten years in prison, Emet First is repairing his shattered life. He has friends, a job, and his first date in a decade. The young woman, Mercedes Finch, is lovely but wounded. When her deranged brother learns about Emet's past, he will stop at nothing to destroy him—and suddenly Emet has everything to lose.