Love Somebody Like You by Susan Fox: Injured on the rodeo circuit, Ben travels to Ryland Riding with a message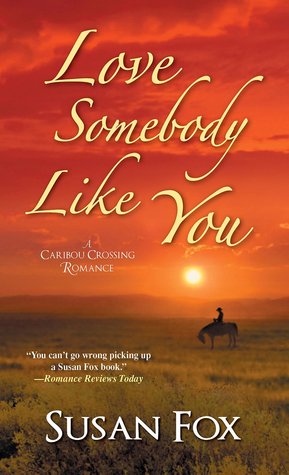 for Sally from her estranged sister. Sally, having been hurt in the past, is distrusting of him. In fact, she pretty much doesn't trust anyone, keeping her one former employee at arm's length and having only two adult friends. She prefers the solitude of the ranch and the company of her horses and chickens to that of people.
First off, if domestic abuse is a trigger for you, you'll probably want to stay away from this one. Sally's husband had been physically and emotionally abusive towards her, and there were a few flashback scenes where scenes where such abuse is described. It's not overly graphic, but it's enough that it may make you uncomfortable if it's a trigger.
That being said, I enjoyed this story. It wasn't just a love story; it was also about Sally finding out who she was and learning to live again after her husband pretty much stripped her of who she used to be. He isolated her from her friends and family so she had no one to tell about the abuse. He took away her confidence in herself and her decisions. With the help of Ben, she slowly gained those things back.
Ben had wanted Sally since he met her years earlier on the rodeo circuit. He wanted nothing more than to be with her, but he could tell she was skittish and that someone had hurt her. With great patience he encouraged her to expand her list of friends, to have the courage to go into town by herself, to dress the way she wanted to instead of the way her husband had forced her to. He pushed her to open up, but never to a point she couldn't handle. He gave her opportunity after opportunity for her to finally break her walls down enough to confide in him, when she never confided in anyone before.
"You think getting thrown off a bronc and busting your shoulder isn't humiliating? Hell, Sally, shit happens; you deal with it; you move on. Shit happened to you and I need to know what it was so I can help you deal with it and move on."
This is the fifth book in the series, but it's a stand alone. Characters from previous books do make appearances in this one, but they're included in such a way that you don't feel like you're missing anything if you haven't read those first.
Domestic abuse isn't an easy topic, but Susan Fox handled it beautifully. Love Somebody Like You is a wonderful story about defeating the demons holding you back, learning to trust again in not only the people around you but yourself as well, and opening yourself up to possibilities that you didn't believe were possible. It's about hope for a better future after suffering through a heartbreaking past. It's definitely worth reading.

Book Info:

Publication: September 29, 2015 | Zebra | Caribou Crossing #5
Since the death of her husband three years ago, young widow Sally Ryland has kept to herself and focused on her struggling business, Ryland Riding. Folks assume she's still grieving, because Sally has never shared the truth about her abusive marriage, or the trust issues that remain. But when a sexy rodeo rider from her past turns up for a visit, he's a reminder of the feisty woman she once was—and maybe still could be…
Ben Traynor was always attracted to Sally, but he didn't move fast enough. Now what Sally needs is patience and gentleness. With an injury keeping him from his next rodeo, Ben has the perfect excuse to stick around and help with her chores—and her healing. And as Sally finds the courage to face her demons and open her heart again, she'll have to decide if what she has with Ben is more than safety, gratitude, and short-term passion, but a forever love…