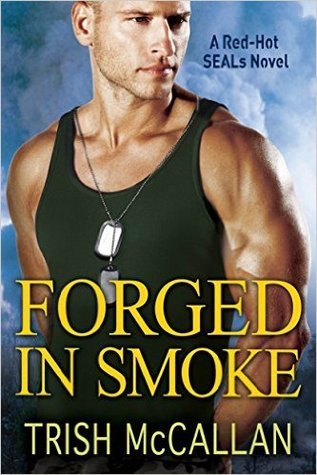 Forged in Smoke by Trish McCallan: Lieutenant Seth "Rawls" Rawlings finds himself in an unfamiliar situation–dead. After being brought back to life, he comes back with Pachico's ghost attached to him. Pachico, a man who had been killed at the same lab as Rawls, may be the only person who can help the group of SEALs who have had to go into hiding, only Rawls doesn't know how to tell his teammates he's being harassed by a ghost.
"You know we've got your back. No matter what. You can tell us what the hell's going on."
Yeah? How was he supposed to tell his best friend that he was quite possibly certifiably crazy–as in actually certifiably crazy? What was the protocol for that conversation? A case of Coors, a jumbo bag of chips, a ball game on the telly and during the intermission just throw the admission out there like a mortar shell?
Scientist Faith Ansell is determined to get the work back that was stolen from her lab. The piece of technology is more dangerous than anyone realizes, even The New Ruling Order, the group who wants it to eliminate people in order to save the Earth.
Faith and Rawls are both dealing with personal issues. Rawls is dealing with the ghost and with the guilt over his sister's death. Faith is dealing with a transplanted heart that's past its prime and in danger of failing. She also struggles with the fact that there are several people in their group that have paranormal abilities. Rawls can see a ghost, Zane can sometimes have a vision when he touches someone, Kait can heal wounds by touching them, and the members of the Shadow Mountain command can communicate through thoughts and seem to be able to see things before they happen. The logical scientist in her tries to find explanations for these events but she can't.
Despite being scared, Faith is willing to put herself in the middle of a danger zone if it means saving lives. She's smart, courageous, and recognizes the important things in life.
Her twenty-nine years and two heart transplants had taught her the value of living in the moment. Of not questioning what the future held. Of finding joy in the hear and now. She couldn't foresee what fate held in store for her, so why make decisions based on possible future events? She shouldn't. She wouldn't.
This is book three in the series and I would recommend reading the previous books first. I haven't read the first two, and I felt like I was missing the backstory as to why the SEAL team and their significant others were on the run. While I would have liked to have known the backstory, not having it really wasn't enough to take away from the enjoyment of the story.
If you're looking for a fast-paced, action packed story laced with a bit of paranormal, then I recommend giving this a read.
Book Info:

 July 19, 2016 | Montlake Romance | Red-Hot Seals #3
Faith Ansell could never be mistaken for an action hero. The scientist is content in her lab, working with her team on life-changing discoveries. But when a mysterious organization captures her colleagues, she's forced to flee for her life with SEAL Team 7.
Lieutenant Seth "Rawls" Rawlings, ST7's corpsman, hasn't been himself since a near-death experience in the Sierra Nevadas. He's tense and distracted, and the team caught him arguing with himself—loudly. Despite his erratic behavior, Rawls is the only one Faith feels comfortable confiding her life-threatening secret in.
But Rawls has a secret of his own: his wasn't the only spirit to return to the physical plane when he was resuscitated. At first, Rawls assumed the "ghost" he saw and heard meant he was having a complete mental breakdown. But the apparition soon becomes convincingly real, and what's more, he may be the key to the conspiracy looming over them. Rawls had better act quickly because ST7's race to save their reputations—and Faith's life—is on.