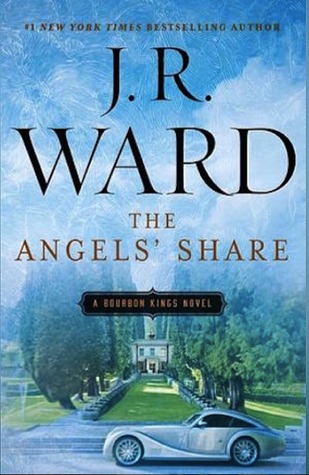 In The Angels' Share (The Bourbon Kings #2) by J.R. Ward, The elite Bradford siblings have certainly had their fair share of challenges to overcome through the years, thanks to their overbearing and abusive father William and the secrets they can't share with anyone else. But since their father's body was recently found in the local river, Lane, Edward and Gin have been thrown into the spotlight along with details of the financial ruin their family business, Bradford Bourbon, is facing. Lane finds himself having to step up, taking over the failing company and trying to find a way to salvage what's left of his heritage for his siblings and his own future.
Mack stepped in front of him, the man's big body the kind of thing you didn't walk through. "So who's running the company?"
"Right now? This moment?" Lane put his finger up to his mouth and cocked his head like Deadpool. "Ah…nobody. Yup, if memory serves, there's nobody in charge."
The plan had always been for Edward to take over the company when it was time, but battered and broken, he's in no shape to make decisions. He knows Lane will do their family proud, especially with Lizzy finally by his brother's side. He thought he might one day himself have the love of Sutton, his business competitor and a woman he's known all his life. But Edward fears he'll have to let go of that dream forever when his secrets come out. He also worries about his sister Gin who is getting married to a man he knows will not treat her right. But no one can tell temperamental Gin what to do. Not even lawyer Samuel T. who has cared for her for years. This is one lesson she'll have to learn the hard way.
'So maybe this was karma. Maybe this was what happened when you threw bad energy out into the world. Maybe this was the tsunami of what she'd done to others coming back to crash on her shoreline.'
What an incredibly complicated yet captivating family saga The Angels' Share turned out to be. Just when you thought it couldn't get any crazier and when things looked like they might just be turning around for the Bradfords…something else happened to turn their lives upside down.
'…He felt like he had lost parts of himself along the way. The angels had to have their share, though, as was their right and as they deserved. And at least those parts of his soul would be in good hands, forevermore.'
If I wasn't already a fan of J.R. Ward's then I certainly would be after reading this book. The drama, the romance, the secrets and the indiscretions all added up to become an unforgettable tale. I think it's safe to say, though, that where this is such an intricately woven story, it is important to read these books in order. And believe me, you'll want to keep going with this series to see how in the world the Bradfords will ever fight their way out from underneath their predicament.
Lane and Lizzy were once again the cornerstone of the story. Well, aside from chef and surrogate momma. Miss Aurora, of course. Lane and Lizzy's relationship was the one constant and my greatest source of hope and laughter as things played out. I loved that they only became stronger with each challenge they faced and that there were so many lighthearted moments they shared. Lane himself truly started figuring out who he was and what he was capable of while he took over the company's helm. And as always, Lizzy was right there beside him, digging in and doing whatever had to be done to take care of him and the family.
Edward changed a great bit in this installment as well. Secrets came to light about some of his previous actions and he came to terms with his love for Sutton. His portion of the storyline was absolutely bittersweet, with his physical and emotional health still in shambles. But his love for his siblings and mother was obvious and that was what redeemed him in my eyes. Gin on the other hand, well, she did undergo some personal growth by the very end, too. It took a while and I'll admit I wanted to smack the smug, selfishness out of her a few times, but she showed she did have a conscience and could love someone aside from herself.
A completely epic tale filled with tragedy, lies, love and hope, this is one story that will have you on the edge of your seat. I have a feeling that like a lot of fans, I'll be reading The Angels' Share more than once.
Book Info:

 Expected publication: July 26th 2016 | by NAL | The Bourbon Kings #2
#1 New York Times bestselling author J. R. Ward delivers the second novel in her Bourbon Kings series—a sweeping saga of a Southern dynasty struggling to maintain a façade of privilege and prosperity, while secrets and indiscretions threaten its very foundation…
In Charlemont, Kentucky, the Bradford family is the crème de la crème of high society—just like their exclusive brand of bourbon. And their complicated lives and vast estate are run by a discrete staff who inevitably become embroiled in their affairs. This is especially true now, when the apparent suicide of the family patriarch is starting to look more and more like murder…
No one is above suspicion—especially the eldest Bradford son, Edward. The bad blood between him and his father is known far and wide, and he is aware that he could be named a suspect. As the investigation into the death intensifies, he keeps himself busy at the bottom of a bottle—as well as with his former horse trainer's daughter. Meanwhile, the family's financial future lies in the perfectly manicured hands of a business rival, a woman who wants Edward all to herself.
Everything has consequences; everybody has secrets. And few can be trusted. Then, at the very brink of the family's demise, someone thought lost to them forever returns to the fold. Maxwell Bradford has come home. But is he a savior…or the worst of all the sinners?