Forgiven but not Forgotten? by Abby Green: Siena had fallen far from her life of luxury when her father's sins were outed and he disappeared. For her sister's sake, she's resorted to serve food and drink at the parties where she used to be a guest. She thinks she's blending in, after all, nobody pays attention to the staff at these things, right?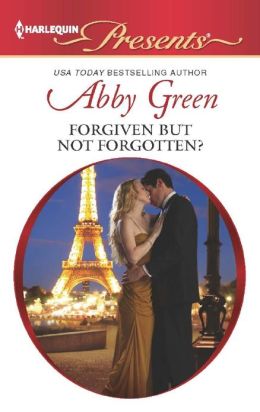 Andreas Xenakis has been following Siena from a respectable distance ever since she tried to use him at the debutante ball. When her father found them getting hot and heavy, she sold him out. He was beaten up by his men, fired from his job, and blackballed in the hospitality business. He had to move to New York to get a fresh start. After a few lucky breaks and meeting his true mentor, Andreas was more successful than he ever thought possible. But he never forgot the night he was humiliated by Siena.
When Andreas confronts Siena, he makes her an offer she simply cannot refuse. A week in his company to make up for her sins. But she counters – she needs money to help her sister, so she gets him to buy her jewelry which she can keep and sell at the end of their time together. Andreas thinks she wants the money to get back on top, and it reinforces the party-girl image he has about her.
Siena has secrets, however. Secrets she's not willing to share with Andreas. If he knew everything, he'd use the information against her. She knows he wants to hurt her like she hurt him. She'd rather sacrifice her own reputation than allow her sister's condition to be revealed – and the truth about their own childhood pain.
"Forgiven but not Forgotten?" depends entirely upon secrets being kept from the Hero & Heroine in order to build the story, but in this case, it was used well. I believed the characters' motivations in doing what they did. My heart broke for Siena and her sister Serena, and when Andreas took Siena to meet his family, I was truly lost in the story.
Sometimes, Andreas is overly Alpha-male, and I would've thought that could force Siena to turn from him, but I suppose love conquers all, right? Another stellar offering from HQ Presents.
Book Info
Publication Date: May 21, 2013 | Series: Harlequin Presents (Book 3148)
"Much as I hate to admit it, you might just be worth paying an astronomical amount of money to bed."
Siena DePiero might have blue blood in her veins, but she's never coveted her family's champagne lifestyle—it's only ever brought her misery. When the family bubble bursts, they are left destitute and Siena's only tradable asset is her virginity….
Andreas Xenakis has waited years to get his revenge and he'll willingly pay to have Siena in his bed and at his mercy. But after just one night together everything Andreas once believed about poor little rich girl Siena is shattered….