In Faking It by Diane Alberts Stephanie is out to prove herself. She has a temp job at a major firm and her hopes to become a permanent staff member and senior investment manager there all hinge on her luring in a big investor for a project. The day she is to present her proposal to the investor is also the day she meets Derek, one of her brother's best friends. Having dashed out to meet her brother for lunch, she's forgotten her umbrella, got soaked to the skin, and Derek unwittingly comes to her rescue with his umbrella. Stephanie is at first mortified when she realizes who he is…then more so when she realizes her brother has to leave town again and wants her to play tour guide to Derek!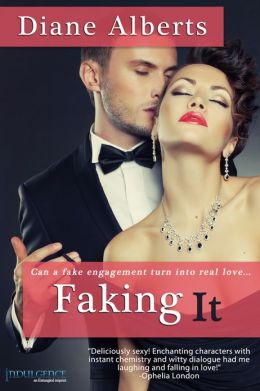 When Derek shows up at Stephanie's office after lunch with her forgotten purse, her slimy boss spots him and convinces them that in order to secure the investor, who is 'big on family', Derek and Stephanie need to fake an engagement. Stephanie is unsure of this at first, but Derek is willing to go along with it if it means helping Stephanie. Yes, he's just met her, but she is his friend's sister, and from teh moment he spotted her he was dazzled by her. Neither of them are looking for a relationship, but they can do a fake engagement!
Or so they think…as they go through the motions of being a couple, somewhere the line starts to get blurred. Derek is tender and loving towards Stephanie and wants to take care of her and make things easier for her. Stephanie feels shaken after just kissing Derek, she will not let this illusion get personal. There is too much at stake for her…her career, her independance. Derek is domineering, wanting to be in charge and take over…in her personal life and her business! But soon their relationship is much more than a fake engagement. Derek is falling for Stephanie and her love of life, her charm, even her clumsiness. Stephanie finds herself falling for Derek, wanting him to open up to her and to be the man he really is, not the cold person he is on the outside.
Derek and Stephanie are complete opposites that attract. They live in different cities and have different outlooks on life. Is there any hope at all that there can be a future together? Or will their differences and power struggles drive them apart permanently?
Faking It is not a really original story line, but Diane manages to mix it up a bit by bringing Stephanie's work in to the picture. The beginning of Faking It was somewhat confusing, and it took me a while to figure out exactly what Stephanie did. I felt that this could have been a lot clearer, making the entry into the book a lot easier to do.
Stephanie was also quite immature. She is on the brink of being evicted, is broke, has no permanent job, but is adament she will not accept the help that can be available for her. I understand she wants to stand on her own two feet, but it's ok to accept that people who care for you want to help you, like she wants to help Derek. Stephanie can be funny and loving, but she's also extremely stubborn! Derek I just wanted to hug! He had a horrible childhood after his mother died, and has been raised by his father to believe that there is no place for emotion. But Stephanie makes him see that he isn't the cold, business driven shell of a man he thinks he is. She forces him to dig deep inside of himself for who he really is, but will it be too late when he finds himself? Both Derek and Stephanie were believable characters. I also really liked Stephanie's brother. He's had some tragedy in his life…I don't know where he is in dealing with that, but he is also hilarious!!
Faking It is a quick, romantic read with some real steamy scenes!
Book Info:
Publisher: Entangled: Indulgence (March 11, 2013)
Derek Rory never meant to propose to his best friend's little sister. But when her boss tells a family-oriented investor he's Stephanie's fiancé, Derek can either play along or let her get fired. He's hardly one to turn away from a damsel in distress. If only that damsel wasn't adorable and sexy with a laugh that could melt any cold business mogul's heart.
When a business proposal becomes a marriage proposal, Stephanie Miller tries to keep it strictly boardroom. But when things get hot under the table, it's all they can do to stay apart. As the tangle of lies drags them deeper into the underhanded world of business politics, Stephanie finds herself in over her head—not just with her job, but with her "fiancé." His eyes are cold, but his kisses light her on fire. If she's not careful, she'll end up faking her way into a real romance.