Forgotten by Sierra Kincade continues the saga of the Talent family and the trouble that follows them. Cole is determined to find his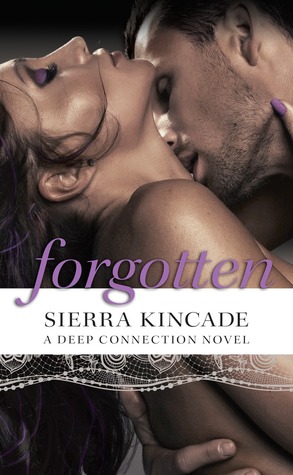 sister. It seems like Marsella was the only one who could hold their family together after their mom left. It's been two years since everything blew up in their faces, and he's been desperately searching for her while running the restaurant in Reno ever since. It's more important to find her now as he plans to expand and open another restaurant in Vegas.
Kenzie loves living in the small town of Ambrose. It's home and she can't imagine ever leaving. She has her own restaurant and her brother in town, so she's not really looking for more. She's looking forward to some peace and quiet, but then Cole shows up at her restaurant along with trouble.
Both Cole and Kenzie are incredibly loyal and family-oriented. Cole wants answers, and it's clear that he will only reveal so much to anyone who isn't his sister. Cole doesn't know who he can trust, but Kenzie does seem to know something. When danger follows him to Ambrose, Cole hightails it back to Vegas…with Kenzie.
"I get you're the strong silent type, but you've got to give me something here."
His heel tapped against the tile floor. Tap, tap, tap.
"You think a hundred thoughts a second. I can see the smoke coming out of your ears." She took one of the chairs beside him, pulling it closer so that she could face him. "Just tell me."
Cole feels responsible for Kenzie and is determined to get them, along with Marsella, out of trouble. Cole and Kenzie need to trust and rely on each other if they hope to ever have a more normal life again. It doesn't help that both felt the undeniable pull of attraction from the beginning. Between hiding out and seeking answers, they connect over all they have in common and explore their chemistry.
"Hobbit," she said. "Truth hobbit. Lie and you don't pass go, you don't collect two hundred dollars, and you don't go to Mordor."
"Are we playing Lord of the Rings or Monopoly?"
Forgotten is a fast-paced suspense with plenty of heat. Sierra Kincaide nicely balances out the suspense and drama with sizzling chemistry and banter. Ms. Kincaide provided good characters who keep you on your toes as loyalties are revealed. The Deep Connections series is probably best read in order, but you could start with Forgotten as the most relevant plot points from Forsaken are worked into the current book. Fans of Roni Loren, Lexi Blake, and Shayla Black will enjoy Forgotten.

Book Info:

Publication: April 18th 2017 | InterMix | Deep Connection #2
The second in the scorching hot Deep Connection trilogy from the author of Forsaken.
Cole Talent never had to go looking for trouble. It always had a way of finding him. After his father's arrest, the family money is gone, their name is in the mud, and both of Cole's sisters, Elaina and Marsella, are missing. In search of answers, Cole leaves Reno for the last place he heard from Marsella—Ambrose, Ohio—and instead finds MacKenzie Sharp, the beautiful owner of the diner where Marsella once worked.
But others have followed Cole from Reno, intent on bringing the family down for good. When MacKenzie gets caught in the crossfire, the only chance she has at safety is to go into hiding with the one man who put her in danger. From Reno to Ohio and now Vegas, trouble keeps finding Cole. But with MacKenzie in danger, it's time to stop running and face it head on.