Forgotten Sins by Rebecca Zanetti; As an orphan living in foster care, Josie was alone in the world. When she met Shane she thought she'd finally found someone to be a family with. Marrying shortly after meeting him, Josie knew he hid a darker side, and there were things she didn't know about him, but she felt like they belonged together. That all changed though the night Shane left…and never came back.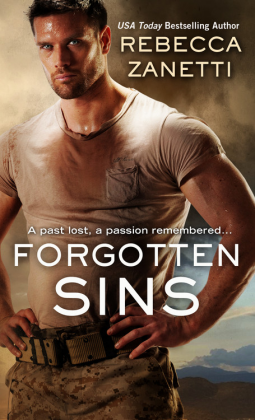 Now Shane is 'back', but he can't remember anything. Nothing from his past, nothing from his marriage, and nothing from the last 2 years he's been missing from Josie's life. When he is found badly beaten, it is Josie who they call for him. Josie has tried hard to move on with her life after Shane left, moving to a different city and getting a new job she's working hard in. Being with Shane again is not what her mind wants, but her heart and body say differently. She still doesn't know why he left her, or what secrets he is hiding. Shane can't remember, but he knows he wants to be with Josie.
As Shane slowly remembers bits and pieces from his past, it is a sad, haunting past. Even though he's had his brothers with him his whole life, Shane has always wanted a family too. But his past, what he's done, and who he is makes him question whether or not he would be good for a family.
Shane is a big, strong man who can be deadly, but even with her doubts, deep down Josie knows he would never hurt her. As he remembers and reveals his past to Josie, she is not scared away, but feels even more for Shane. As big and tough as Shane could be, he really made me just want to give him a big hug. Nothing will keep Shane from making sure Josie is safe, even if it means leaving her again. Now Shane's past is coming back to haunt him, and Josie has a stalker who will stop at nothing to get what he wants. Shane wants to protect Josie, but Josie isn't sure who she can trust…especially a husband she thought was gone forever. They have been thrown together again, but will Shane's past keep them apart?
Rebecca truly gives us a pulse pounding romantic suspense with Forgotten Sins! At times my heart really was racing as I was almost scared to turn the page to see what would happen next! Forgotten Sins is an original, fast paced, action packed romantic suspense that will keep you on the edge of your seat to the last page! I loved both of the main characters in Forgotten Sins. Shane is the protector, defender, all things alpha man! His upbringing was tragic, and he has a lot of secrets, but he has somehow managed to become a better man because of it. Even though he sees Josie as 'soft', Josie gives a whole new meaning to the phrase "tiny but tough"! She is independent, smart, strong minded, and not willing to sit back and let Shane protect her. The chemistry between Josie and Shane is really hot and well written into the story.
Rebecca manages to draw us in with her writing, giving us lots to think about and look forward to the next book in this series!
Book Info
Publisher: Forever (July 2, 2013)
His Secrets Can Destroy Her
From the moment Josie laid eyes on sexy, mysterious Shane Dean, she was in love. Their desire ignited a passionate affair, and within weeks, Shane had slipped a ring on her finger. It seemed her every fantasy was coming true . . . until her new husband disappeared without a trace. Now, two years and one broken heart later, Josie is shocked when the hospital calls: Shane has been found . . . at a crime scene with no memory of how he got there.
Her Love Can Save Him
Shane can't remember the blue-eyed angel at his bedside-or who he even is-but he knows something isn't right. His hearing is razor sharp, his physical strength incredible, and the urge to protect Josie overwhelming. For powerful enemies are hunting him, and Josie is the key to discovering why. As Shane struggles to unravel his past, dangerous new truths come to light. Can he protect the only woman he's ever loved? And can Josie trust a man she thought she knew-one who carries such a deadly secret?
88,000 words