In Four Friends by Robyn Carr, Gerri and her husband Phil have been married for over twenty years. Things may not have always been perfect, what with three kids, her job as a counselor for Child Protective Services and his demanding career as the assistant district attorney. But Gerri thought they were happy, open and honest with each other. Until she finds out there were issues in the past that Phil never voiced which led to an event that could devastate their marriage. It's up to Gerri to decide if she can put her trust in her husband once again and rebuild their relationship.
She leaned toward him. "Think we're gonna make it, Phil?"
He looked down for a moment, then raised his eyes and looked right at her. "I think there's too much right about what we have for us not to make it."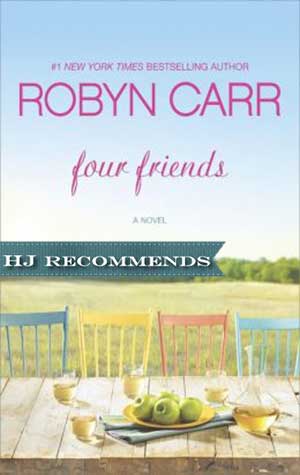 Andy is facing down her second divorce in a decade. It's a little bit disconcerting to think about starting over in her forties but she can't keep things as they are with Bryce. While nursing her broken heart, again, Andy gains a wonderful friend in Bob, who is refinishing her kitchen. He is smart, honest and refreshingly humble. The complete opposite of any man she has ever dated before. Their friendship leads to strong feelings on both their part which take them by surprise, but may turn into the best opportunity they've ever had.
"It's so hard," Andy said. "When you don't have anyone."
"Yeah, I know," Gerri agreed. "Yet it's harder when you have the wrong one."
BJ is a very private woman who is the newcomer to the neighborhood. She sees the three friends going for their morning walks while she goes for a solitary run instead. But as BJ watches her neighbors lives falling apart one by one, she can no longer sit by and see them struggle. Opening up to them can put herself and her children at risk. But she believes these three incredible women can benefit just as much as she can if they can learn to depend upon each other , if for only a short while.
Sonja has always been the organized one in the neighborhood, keeping everyone on their schedules and ensuring everyone is taken care of. She didn't realize in doing so that she wasn't necessarily taking care of herself, though. Especially her emotional needs. When her husband of almost ten years decides he can't stand their spa-like home and her new age tendencies any more, his abrupt departure leaves her completely wrecked. It will take the help of her two closest friends, Gerri & Andy, as well as BJ, to get Sonja on the path to recovery.
"There were just times I thought divorcing him might be more painful than living with him." She blinked and a tear rolled down her cheek. "I guess I'm beyond that now."
Four Friends is a new women's fiction novel by the extremely talented Robyn Carr. Centering on four women in the midst of various marital and personal issues, they take us along on their rocky journey to finding peace in their lives.
I've been a fan of Ms. Carr's Virgin River series for years, and more recently, her spin-off Thunder Point series. I found the characters in Four Friends to be every bit as engaging and multidimensional as in her previous books. This story seemed to both celebrate relationships & friendships as well as tear them down to their basic emotions while we watch them get rebuilt again. Each woman's struggle is wrought with raw, sometimes painful, emotions which were completely identifiable. Even if we haven't been in similar situations ourselves, we all have friends or family with whom we have commiserated their feelings…and maybe have also done a little man-bashing to help them get their frustrations out verbally. 😉
There was such an interesting dynamic between Andy, Gerri, BJ, and Sonja to begin with, which then began to shift as each woman's life was turned upside down. Sonja started out as the glue that held them all together and ended up having the most dramatic emotional breakdown of the four. Past grief finally caught up to her and wouldn't let go until she dealt with the devastating emotions. Andy and Gerri were both strong women who unfortunately had somewhat similar marital issues to overcome. However, they handled it very differently, and rightly so, given that their relationships with their husbands were drastically different. BJ was the wild card in the bunch, who's past was so shocking that even though we get hints as the story progresses…I could have never imagined exactly what she had been through. Kudos to her for coming out of her situation stronger and healthier.
I highly recommend Four Friends to fans of chick-lit based stories about close knit female friendships, romance, and the trials and tribulations of everyday life.
Book Info:

Published March 25th 2014 by Harlequin MIRA
Gerri can't decide what's more devastating: learning her rock-solid marriage has big cracks, or the anger she feels as she tries to repair the damage. Always the anchor for friends and her three angst-ridden teenagers, it's time to look carefully at herself. The journey for Gerri and her family is more than revealing—it's transforming.
Andy doesn't have a great track record with men, and she's come to believe that for her a lasting love is out of reach. When she finds herself attracted to her down-to-earth, ordinary contractor—a man without any of the qualities that usually appeal to her—she questions everything she thought she wanted in life.
Sonja's lifelong pursuit of balance is shattered when her husband declares he's through with her New Age nonsense and walks out. There's no herbal tonic or cleansing ritual that can restore her serenity—or her sanity.
Miraculously, it's BJ, the reserved newcomer to Mill Valley, who steps into their circle and changes everything. The woman with dark secrets opens up to her neighbors, and together they get each other back on track, stronger as individuals and unfaltering as friends.