Rewarded, by Jo Davis, is the third and final installment of the Torn Between Two Lover's trilogy. Jo jumps us right back into the action where Risky (#2) left off…Anna has been kidnapped by Joaquin's enemies – very dangerous people who will do whatever it takes to get what they want. Joaquin and Grayson, rivals for Anna's heart who you will know from the first two novella's, put aside their differences to come together, doing all they can to find and save Anna. Joaquin and Grayson are opposites but deep inside very similar, and how they came to know Anna is an intertwined twist of fate. They both love her and want her – can either have her though?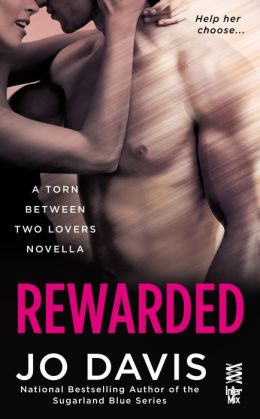 When they find Anna, she is going to have to make a choice. Who will she give her heart to? Which man does she love with all of her being?
The Torn Between Two Lover's series gives us some great characters, some of whom you will feel like you wouldn't mind spending some time with! I really liked both men vying for Anna. Despite their differences, they are strong, upstanding, and willing to do whatever it takes, whatever the cost to them, to save Anna. Joaquin and Grayson were easy characters to understand and feel. I know who I would have picked…but I was never really impressed with Anna and her actions that got her in this situation in the first place. Anna was a bit harder to feel close to, but that does not impact the power of Rewarded.
Jo gives us a fast paced, suspenseful conclusion to Anna, Grayson's and Joaquin's story. The plot moves quickly and smoothly, with lots of fast action, sexual tension and heartache. There is just enough of a mix of suspense and romance, and Jo meshed them together very well. I felt that she wrapped up Rewarded perfectly and finished it, but at the same time there is certainly room for one more story! There's nothing I would want changed, this was a fun, intriguing series and I couldn't wait to see how it turned out.
I'd recommend Rewarded to romance readers looking for a quick, action packed novella that will have you as undecided as Anna! To get the full impact of the story and the relationships, you should read Raw and Risky first.
Book Info:

Published March 18th 2014 by Penguin InterMix | Series: Torn Between Two Lovers #3
TORN BETWEEN TWO LOVERS is a gripping and sexy romance trilogy with a unique twist: Our heroine needs your help to decide who wins her heart…RISKY is the second novella in this sizzling new series, in which two enticing men will vie for Anna's heart—culminating in a choice that will be determined by reader vote!
Don't miss the exciting conclusion!
REWARDED blurb coming soon…