Four Nights to Forever by Jennifer Lohmann is a wonderful, quick read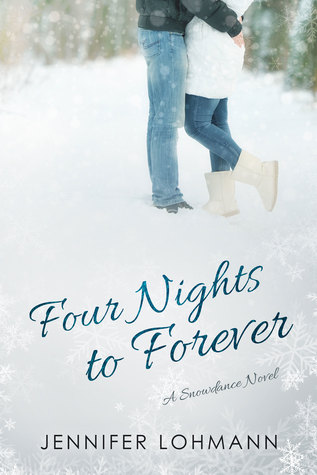 about finding love and that instant connection between two people. It is about starting over, and pushing past your fears and doubts. It is about finding courage and taking a leap of faith. This is the story of Cassie and Doug.
Cassie is newly divorces with a college age daughter and about to turn 40. She has no idea where her life is headed or what she is should do next. As a present to Cassie and to help her get out of her own way, her best friend Karen books a week long ski vacation for them in Utah, including a very sexy ski instructor and the demands that she gets herself a sexy hook up while there. What Cassie does not count on is Karen breaking her leg and having to fly home, or the instant and total attraction that she feels for Doug.
Doug made a mistake 5 years that distroyed his marriage. Since then he has had a strict hands-off policy when it comes to his students. But all that might fly out the window when he sees the beautiful, sexy, funny, Cassie that has a smile that would melt the coldest white capped mountains.
Both have had their share of disappointment and hurt. Both know that their fling has an expiration date, but both of them know that this is more than a fling and they want to hang on with both hands and see where this thing might go, because nothing has ever felt so right.
I loved the interaction and the teasing between Doug and Cassie. They are just so easy around each other and the flirting and chemistry are off the charts. I loved Karen. She was the type of friend who knew exactly what to say to help Cassie realize that her own fears where holding her back and that she just needed to trust herself and find her life.
Four Nights to Forever by Jennifer Lohmann is a sweet read that proves that love at first sight does exist and that sometimes you can find your hearts desire when you are not even looking.
Book Info:

Publication: June 23rd 2015 | Jennifer Lohmann | Snowdance Novels Book 1
A week skiing in the mountains of Utah is the perfect way for Cassie Sumner to mark the start of her post-divorce life. Especially when the mountains aren't the only gorgeous view . . . But hitting the jackpot with her hot ski instructor doesn't mean she's ready for—or interested in—the vacation fling her best friend is encouraging her to have.
One bad experience years ago was enough for Doug Vanderholt to swear off affairs with students. And he's keeping that promise, even if he can't stop thinking about Cassie's smile. He's remade his life and is only interested in something serious and real.
Doug and Cassie can't ignore their attraction to each other, and they both feel they can just get it out of their systems. But as the week draws to a close and their physical attraction turns deeper, they start to wonder if they can turn a vacation fling into something more.