Free Fall by Emma Barry and Genevieve Turner is the latest romance in the author duo's Fly Me to the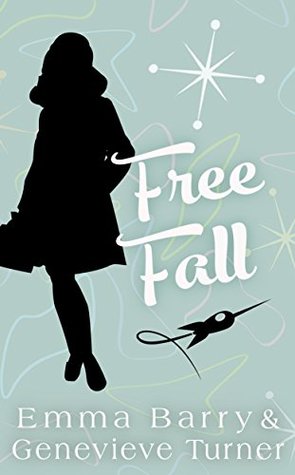 Moon series. It's set in the early days of the space race between the Americans and the Soviets. With a fascinating mix of fact and fiction and emotionally engaging characters, it's a series not to be missed. Each story reads well as a standalone with a compelling romance amid the successes and failures of various missions.
When astronaut Dean Garland meets Vivian Muller at a party, their one night stand results in an unexpected pregnancy followed quickly by a shotgun wedding. Neither Dean nor Vivy was given any choice in the matter especially since Vivy's father is a wealthy defense contractor who works with the space program. The one thing Dean and Vivy have in common is sexual attraction which should be enough to start their marriage off right, but to Vivy's dismay, Dean's told her he isn't allowed any 'distractions' of the romantic or sexual kind due to a training accident for which an astronaut with a party going reputation was deemed at fault.
Adjusting to marriage with a stranger and no sex? No way. Vivy is determined to make the best of things and entice her husband back into the bedroom. But the training Dean is involved in to make the first space walk is no joke. With the pressure on, can Dean and Vivy survive the first few months of their marriage intact, and discover real love waiting in the wings?
I adore this series, and have consistently put previous entries on my 'best of the year' reading lists for their originality, attention to detail (both style and substance dealing with the era and the development of the space program), and unique, likable, realistic characters. Once again, the authors have created a relationship that shows how much work is involved in making equal partnerships, especially in a time when women had defined societal roles and had to learn to make the most of their true power. Vivy comes from a privileged family and never questioned the authority of her parents (hence her acquiescence to the marriage) or what her father does for a living. Now that she's married to an astronaut who will be using the equipment manufactured by her father's company, it's a quick learning curve to realize the real world consequences of something to which she'd never given more than a passing thought.
Dean and Vivy have an awkward start, but gradually get to know each other and commit to making the best of their situation. Dean spends weeks away in training and during that time Vivy becomes friends with the other astronauts' wives. I enjoyed these scenes, and watching Vivy mature and gain confidence in her role as Dean's wife, but also in learning to stand up to her parents and prove she's no longer their little girl. It was also delightful to see Dean and Vivy come to know and care for each other and they share some sexy love scenes.
The training accident that occurs at the start of the story is investigated throughout in order to determine the real cause and make sure it doesn't happen again. This adds some underlying tension to the story, especially as it comes closer to Dean's mission. The authors do a very credible job of putting the reader in the cockpit with the astronauts as they blast off into space and I find myself on pins and needles every time wondering how things will turn out. Since this is a romance, you can be assured that regardless of what may happen in the story, there's a happy ending guaranteed, but not without putting you on the edge of your seat to get there. I highly recommend this story, and all the others in the series.

Book Info:

Publication: July 31, 2018 | Penny Bright Publishing | Fly Me To the Moon #5
Houston, Texas, 1965
When an accident rocks the American Space Department, threatening the race to the moon, the agency is determined to eliminate distractions, including those in the bedroom.
Astronaut Dean Garland, on track to become the first man to walk in space, is fine with putting a temporary hold on his love life. Except the directive comes too late to prevent the biggest distraction of all: Vivian Muller… Garland. But now that he's married, Dean is determined to follow the rules until he makes history with his spacewalk.
Vivy never expected to find herself pregnant or in a shotgun marriage, much less a sexless one. While her new husband might pretend to be perfectly happy sleeping alone, Vivy's never believed in pretending or holding back. She's determined to make her husband fall for her, even if it means bending—or breaking—the rules.
Dean's resolve to keep marriage and work separate hits another serious snag: the suit he's supposed to wear in the killer vacuum of space isn't reliable, and his new father-in-law manufactured it. As Dean unravels the technical problem and Vivy tries to win her husband's love, their hearts and his life hang in the balance.