The Italian's Runaway Princess by Andrea Bolter: Just a little while away from the future and then it's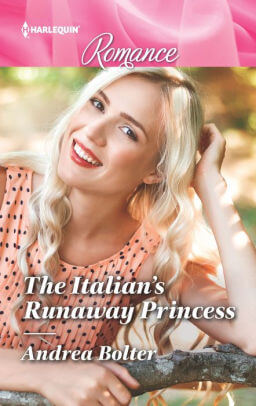 back to the future laid out for her, but just a little bit of time to be her own person. Why was that too much to ask?
Princess Luciana de la Isla de Izerote knew her future was cast out before her. She knew her duty and she knew she would do it. She just wanted one teensy tiny break before she slipped into that world, was that too much to ask? Well instead of asking she was just going to do it, she was going to slip away and see something, experience something before doing her duty forever.
Giovanni Grassi didn't tolerate liars. He also couldn't resist a damsel in distress so when he comes across a lovely lady who needs his help what is he to do? However with so many responsibilities on his shoulders can he really take the time to get to know this young lady? Somehow when he's not looking she is getting under his skin though.
When Luciana's secret is revealed with Giovanni thrust her away or will his instinct to protect get even stronger?
This is a hard one. This book is incredibly detailed, so much so that its hard to see the story and the plot line or even the romance in some spots. That said the details are very vivid and it is easy for the reader to see what and where, but it seems these come at the cost of the storyline. Overall it was a hard book to push through. If you can get through it though the ending is incredibly sweet and almost worth it.

Book Info:

Publication: September 4th 2018 | Harlequin Romance |
Is life outside the palace walls…
…everything she dreamed of?
When billionaire Gio Grassi rescued a beautiful stranger on the streets of Florence, he never imagined she'd be royalty! Princess Luciana's innocence compels Gio to protect her, and her vivacity intrigues him. But Gio's been betrayed before and he can't let it happen again. With Luciana's arranged royal wedding only weeks away, can this chance encounter change the course of these two lives—forever?