French Quarter Kisses by Zuri Day is a sexy and emotional romance featuring a chef haunted by his past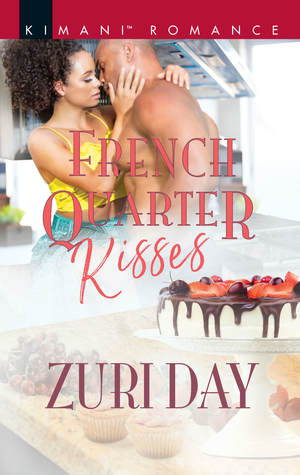 and a reporter working to honor the memories of those lost in Hurricane Katrina.
Pierre LeBlanc is a celebrated chef and food network star but his humble beginnings in the Ninth Ward of New Orleans tell of what he's overcome to become successful in his career. He's just returned home to open a new restaurant in the French Quarter, one which is quickly a top destination.
Reporter Roz Arnaud is looking for feature stories of residents of New Orleans and their memories of Hurricane Katrina. While most are interested in interviewing Pierre for his cooking talents, she knows that the celebrated chef left New Orleans at the age of fifteen with his sister during the days of devastation, and wants to tell the more human side of how he survived the tragedy. Their first meeting definitely doesn't go so well, but they quickly find their footing with each other – and discover a mutual attraction. When Roz decides to help Pierre look for relatives lost in the storm, it opens up a secret that neither is prepared for. Will it spell the end of their fledgling relationship?
I loved this story! It's got a perfect blend of interesting characters, emotional moments and sexy romance to pull the reader into the tale of two survivors of what remains a dark moment in American history. The reality of those who were faced with the devastation of Hurricane Katrina is not glossed over and Roz's purpose in writing the memory articles is to honor those lost and the ones who've survived. I really enjoyed this aspect of the story for its realism, and for the plot points that develop that propel the later part of the story.
This is also a foodie romance, and the descriptions of Creole food will have your mouth watering for a taste! From Pierre's upscale modern take on renowned local cuisine to Roz's friend Ma's unassuming but delicious down home cooking there are plenty of scenes revolving around food and some interesting family links that come into play later on.
The romance between Pierre and Roz heats up quickly with some sexy scenes. As they start to fall for each other Roz's desire to help Pierre results in the knowledge of secrets that almost cause their new relationship to fall apart. Fortunately they are smart enough to listen to their friends and family who help convince them to give each other a second chance, resulting in a really lovely happy ending. It's an entertaining, sometimes heart wrenching but ultimately hopeful romance and I look forward to reading more from this author!
Book Info:

Publication: June 19, 2018 | Harlequin Kimani |
Can this celebrity chef keep his past hidden? Not with a beautiful society reporter uncovering his secret desires!
Pierre LeBlanc is a triple threat: celebrated chef, food-network star and owner of the Big Easy's hottest restaurant. Journalist Rosalyn Arnaud sees only a spoiled playboy not worthy of front-page news. Their sizzling attraction tells another story. But when she uncovers his secret, their love affair could end in shattering betrayal…