Shimmy Bang Sparkle by Nicola Rendell: Nick never meant to lead a life of crime, but he's very skilled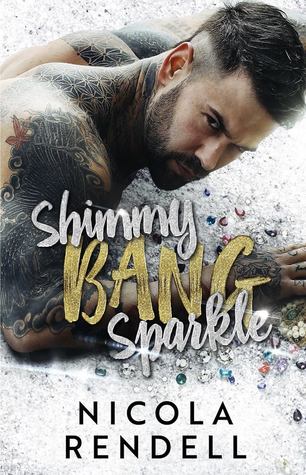 when it comes to opening things that are locked…like cars, briefcases, and safes. He's very, very good with his hands and earned quite the reputation for himself until he found himself on the wrong side of an undercover operation. Now that he's out of jail he's going to turn his life around.
Stella is quite the contradiction. She can play many roles and pull them off flawlessly, which is very helpful when you're a thief working with your best friends as modern day Robin Hoods. She's caring, generous, loyal, and always looks out for the underdog. She never meant to become a thief, but she is a master.
Good intentions only get you so far, especially when he meets the seemingly innocent girl next door, Stella. They immediately click and have incredible chemistry. But Stella has her own plans and they involve one last score with her BFFs so they can go out on top and retire from the life. Nick may be the one thing she wasn't planning for and a distraction she doesn't need.
He groaned a little. "You're making me lasagna?"
I froze with my key halfway into the lock. "Unless you prefer risotto. Or maybe a nice pesto linguine. Or mussels in white wine?"
"Jesus Christ," he groaned. "Where have you been all my life?"
Stella and Nick are definitely two of a kind and their relationship develops pretty quickly. They understand each other and they are attracted to each other's very unique skill set. Nick is thoughtful, protective, and very supportive. Both see a future where they could be happy together, but they have to work together and pull off this one last job.
I had a very real feeling that I wasn't going to win a whole lot of arguments with her, so I reveled in this victory. "Good. So we got a deal?" I asked, and stuck out my right hand. Stella looked at it, and laughed a little.
"Gonna leave a guy hanging out here? Shake my damned hand," I teased her. "Hurry before I spit in my palm."
Shimmy Bang Sparkle is fun, exciting, entertaining, and a great read for the summer. Nicola Rendell creates a perfectly matched pair with heat, humor, and banter. Ms. Rendell created a diverse cast of characters who bring the story to life. Fans of Vanessa Fewings, Ainslie Paton, and Tessa Bailey will enjoy Shimmy Bang Sparkle.
Book Info:

Publication: August 21st 2018 | Montlake Romance |
To catch a thief…or fall for one?
All Nick Norton wants is to stay on the straight and narrow…and never get caught stealing again. Then he lays eyes on her: Stella Peretti—100 percent sexy and absolutely irresistible. Especially when he sees her smooth moves lifting a two-karat diamond. Nick realizes he's found the sparkling woman of his dreams—one so perfect for him it's almost criminal.
The Shimmy Shimmy Bangs are master jewel thieves who are planning the heist of the century. And Shimmy leader, Stella, isn't about to let anyone—even if he is a hunky, tatted-up studmuffin—get in her way. But when two of her girls are put out of commission, Stella realizes that Nick isn't just a red-hot distraction. He might be the answer to her pilfering prayers.
Now, Nick and Stella are putting everything on the line for one last job. But when two thieves have this much chemistry, it's only a matter of time before somebody's heart gets stolen.