In Friends to Lovers by Christi Barth, Daphne Lovell is the florist and co-owner of a successful Chicago wedding planning business. As such she is always in other people's happiest day. But does not have the same happiness in her life. She may date every once in a while but she has not had a steady relationship in a long time. The only steady things in her life are her friends, family and work. But the one constant is the torch she carries for her sexy, womanizing and very oblivious friend.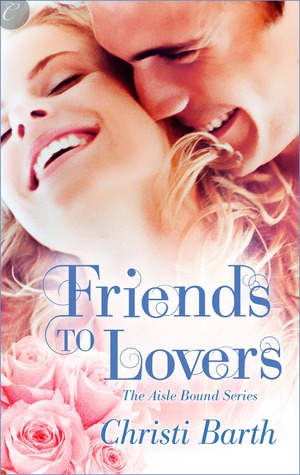 British expat Viscount Gibson Moore, not that he likes to be called that, is a hotel manager and thrives under the work he has to do to make things run smoothly in his hotel. But that does not mean that he doesn't love women, all the variety that goes through his bed and that they always leave with a smile on their face. He doesn't believe in commitment and is happy with how his life is.
Until at a wedding party in his hotel, the lights go out when the bride is about to throw the bouquet, and he receives the best kiss of his life. It was perfect! But when the lights come on he has no idea who the woman was, and the fact that he is surround by women does not help. So he asks Daphne who was but a foot away if she saw who it was.
Daphne took a chance to take what she has always wanted for so long but now with her not being considered in the running is just humiliating. She will not reveal to Gib that she is his Cinderella no matter what. She will keep her secret for as long as she can.
So when her friends ask her for help with a menu they are trying she accepts, without knowing that Gib will be second person they ask. And since the menu is for Valentines Day and is all about seduction and aphrodisiacs she knows that she cannot do it and tries to back out. But they will not allow her to back out, even when they find out the reason why. They believe that she will be able to go as if nothing happened and prove that their friendship will continue like nothing.
Until the day of the meal, she tries to take it like any other day with Gib, but when feeding each other the finger food, Gib follows the impulse he has denied himself to kiss his friend. Only the kiss is too familiar, and when he finds out that his friend and Cinderella are the same, and her explanation makes no sense to him at the moment and leaves without another word.
Now not only is their friendship at risk, but also what they found together that neither of them had felt before. To make matters worst Gib doesn't know how to date normally without his usual ways, and that is something that will not go well with Daphne on his first try. And more trouble to come when the hotels are sold and his job is put in peril and he may have to leave for England.
Well I can tell you one thing, Gib and Daphne have a lot of obstacles to face. And well, them being best friends who spoke about everything is a benefit but also a problem for things must change and neither knows if they can go with the flow that easily.
For a sweet, fun and heartwarming romance, don't miss Friends to Lovers by Christi Barth.
Book Info:

October 14th 2013 by Carina Press
Book three of Aisle Bound
As florist and co-owner of a successful Chicago wedding planning business, Daphne Lovell has been there for the happiest days of other people's lives. As for her own life? Well, it's hard to be perfectly happy when you're carrying a torch for your sexy, womanizing and oblivious best friend. So when the lights go out on New Year's Eve, she seizes the opportunity to kiss him senseless.
British expat Gibson Moore has a lot on his plate. The hotel he manages is being bought out, his family is crazy and someone just kissed him in the dark. When the lights go on, he searches the room, trying to find the mystery pair of lips. Only, he never thinks to ask the woman standing by his side. He's shocked when he discovers that Daphne is the woman he's been searching for. But Gib's also eager to act upon the attraction for her he's always fought to ignore.
It takes trust to move from friends to lovers, and as Gib's work situation worsens, he is no longer sure he can risk the friendship he relies on most. It's up to Daphne to convince him that some things are worth fighting for…