In Tempt the Stars (Cassandra Palmer #6) by Karen Chance, Cassandra Palmer is still trying to get used to her new role as the Pythia, the one who oversees all of those in the supernatural world on Earth. She didn't even know she was part goddess until recently and has never been shown how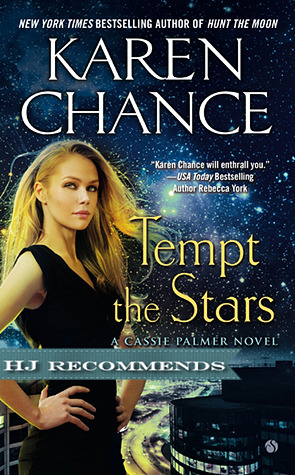 to use her powers before now. Not that there's been much time to learn, considering the numerous attacks on her life since she took over as Pythia.
'For once, I wanted this power I'd never asked for, and which had been nothing but trouble from the moment I got it, to actually do its freaking job. And help somebody.'
Cass finds herself in more trouble when she tries to rescue her friend and bodyguard John Pritkin against demonic forces. She and her cohorts soon are wrapped up in a battle that began centuries ago and involves gods, demons and every supernatural being in between. Cass has much to learn about being the Pythia in a very short amount of time or risk losing the people she has come to care about very deeply.
"I just–I can't understand not fighting for your life–for what you want. Just giving up–"
A corner of his mouth quirked. "No. You would not understand that. You never stop trying, do you?"
"What else is there?"
"Despair. Hopelessness. Anger. Depression."
"But those don't get you anywhere."
Tempt the Stars is a very imaginative and no nonsense urban fantasy by Karen Chance. This is book six in the series and I think it would be wise to read the rest of the books before jumping in like I did. It was a bit overwhelming and confusing but with some perseverance it was possible to understand (most of) the intricacies.
I did enjoy Karen's writing style quite a bit. It was full of sarcasm and witty responses which, for me, is a joy to read. Cass is the narrator of the story and she gives us the plotline in a play-by-play voice like she's talking directly to the reader. It's in-your-face with blunt honesty and it works perfectly for her character.
Cass herself was a spitfire of a young woman who just won't quit. Or maybe just doesn't know when to quit. She fights for those she cares about and is willing to do anything she can to help them. She was a complex character to get to know and it was interesting to see her interactions with her bodyguards and other members of the supernatural realm. Admittedly, I don't know the previous chapters of her relationship with Mircea or Pritkin, but I did enjoy Pritkin's character a lot. I can see how Cass could be confused by her growing dependence on him and her attempts to save him.
Overall, I enjoyed Tempt the Stars and think it's a pulse-pounding example of solid Urban Fantasy writing.
Book Info:

 HJ Recommends
Published October 1st 2013 by Signet Select |  (Cassandra Palmer #6)
Being a goddess is a lot less fun than you might think. Especially when you're only a half goddess, and you only found out about it recently, and you still don't know what you're doing half the time. And when you've just used your not-so-reliable powers to burglarize the booby-trapped office of a vampire mob boss.
Yeah, that part sucks.
But that's just the tip of the iceberg for Cassandra Palmer, aka the Pythia, the freshly minted chief seer of the supernatural world. After all, Cassie still has to save a friend from a fate worse than death, deal with an increasingly possessive master vampire, and prevent a party of her own acolytes from unleashing a storm of fury upon the world. Totally just your average day at the office, right?