In From Doctor to Daddy by Becky Wicks , Dr Fraser Breckenridge broke Sara Cohen's heart six years ago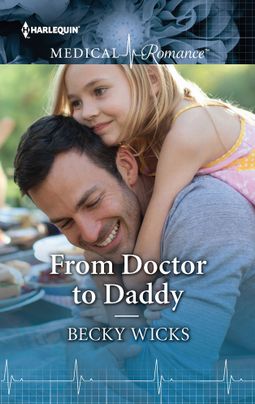 and she's never gotten over it. So, when she discovers he's working on the same cruise ship where she's taken a job to help monitor dialysis patients, she wants to run away. Yet, Fraser isn't about to let her give up her shot at helping people. Not when he discovers her daughter is one of the patients aboard. Determined to help Sara and her daughter, Fraser never imagined how much his life could change for the better, especially once he uncovers a secret from the past. Will Fraser be able to convince Sara to give him a second chance or will she be the one to break his heart this time?
"Your mum's just processing some new information. She'll be fine. I see we have the ship's film-maker on board already. Have you got any good stuff yet, Miss Spielberg?"
She giggled. "Some."
"Maybe we can take you behind the scenes sometime? Show you the kitchen and the bridge?"
Her eyes lit up. "Yes, please! Can I get some film of you?"
"Only if you capture my good side. Which side do you think that is?" He turned his head from side to side, pulling different faces as he did so, and Esme giggled again, her whole face lighting up.
Ms. Wicks writes stories set in the most interesting of places (well, in the two books I've read by her she has) and this one being set on a cruise ship where dialysis patients can experience the thrills of the sea; something they never imagined they'd be able to do in their condition was absolutely entertaining, fast-paced and a story I couldn't put down because of the medical emergencies these two have to handle, the main characters history and whether the hero and heroine would fight for their second chance at happiness.
The way this story started had me hooked due to the shared past the hero and heroine have and had me reading quickly, determined to discover whether the pair would be able to achieve their second chance at happy ever after. Will the pair be able to forgive each other for the past? Will the hero find a way to help the heroine's daughter? Will the heroine accept his help? Moreover, I loved the dialogue, which was compelling and filled with playful moments between the hero and the heroine's daughter; a young girl that deserves a chance at life. But without a donor she might not have a chance.
"You'd look quite cute with a little Nemo swimming around you," she said, packing up the medical kit. "Still, you were lucky it wasn't worse."
"I know."
"I don't know what I was thinking." Sara paused and looked at the carpet. "I shouldn't have even been out there, Fraser. What if something worse had happened to me? What would Esme have done?"
"You can't put your entire life on hold because of what might or might not happen, Cohen. You were having a good time out there before the accident, weren't you? We all were."
With the main characters, the heroine is strong, brave, a great mom, kind, caring and I liked that she gave the hero a second chance, even knowing that he could end up breaking her heart a second time. I also liked the close relationship she has with her daughter and that she would do anything to make the young girl's life better. Really, her daughter deserves to be able to experience everything an inquisitive young girl like she is can growing up. While the hero, he's smart, confident, charming, a good doctor, kind, considerate and I liked how determined he is to win over the heroine. He needs to find a way to make things up to the heroine for hurting her in the past and there's no better time to start than on a cruise ship where it wouldn't be easy for her to leave. Will the heroine be able to forgive the hero for the past? I also liked how determined the hero was to help the heroine's daughter and how well he handled the truth of everything he learns as he discovers whether he can help Esme.
Overall, Ms. Wicks has delivered a wonderful read in this book where the chemistry between this couple was strong; the romance was delightful and special, as these two find their way back to each other; and the ending had me loving what the hero does for Esme and how everything works out for the best between the hero and heroine. However, it was the epilogue that wrapped this story up nicely because of how much good they're doing as doctors. I would recommend From Doctor to Daddy by Becky Wicks, if you enjoy second chance romances, medical romances or books by authors Amalie Berlin, Tina Beckett, Louisa Heaton and Meredith Webber.
Book Info:

Publication: March 18th, 2019 | Harlequin Medical |
Can he fix the past…by giving her daughter a future?
Six years ago Dr Fraser Breckenridge allowed Sara Cohen to walk out of his life and he has always regretted it. He seizes the opportunity to employ her on board a cruise ship for dialysis patients, but Sara now has an adorable little girl who urgently needs a new kidney. Can Fraser uncover why Sara left? And give her – and Esme – a reason to stay?