Colorado Cowboy by Sara Richardson is the 5th book in the Rocky Mountain Riders series. Reading this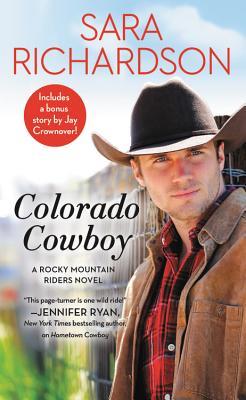 series is like coming home to the characters that we have known and loved throughout this amazing ride. In this book we finally and I mean finally get to a HEA for the rough and hard as nails Charity Stone. This is her HEA.
Charity Stone is a champion barrel racer, hard as stone and takes no prisoners in the male dominated world of rodeo. She holds her own, she take no crap from anyone and that is what makes her so amazing. She keeps her guard up and does not let anyone get too close, except for Dev Jenkins, the Topaz Falls Sheriff who wears his heart on his sleeve and makes Charity feel things she has been fighting for a long time.
Dev Jenkins has been falling for Charity Stone since the day she rode in to Topaz Falls, and his falls a little more every day. Problem is, he needs to make her see it too. When her sister comes to town and dumps her teenage nephew on her door step, Charity is going to need all of the help she can get finding her sister and helping her nephew. Dev is ready to step up to the plate and lend a hand, if she will let him.
As Charity and Dev work together to make Bodie adjust, they both start falling harder and harder for each other. But when Dev finds out some information about Charity's sister, and it is not very good, it could derail the relationship that they are building and could fracture the trust that is being built between Dev, Charity, and Bodie. Can they survive the fallout or are they at an en-pass too wide to breech.
What I love about Charity and Dev is that they are both good to the bottom of their souls. They will do whatever it takes for family, friends, and those that they love. They will move mountains to protect those that need them and will place themselves between whatever comes their way to keep those around them from getting hurt. There are misunderstandings, there are hardtimes and hurt, but as they work through them, as they lean on each other, they find that they are stronger together then they could ever be apart. And they bring Bodie to a place where he is at peace and able to have a life free of worry and fear.
An amazing addition to this amazing series. I cannot wait to read the next book in this series.
Book Info:

Publication: April 2nd 2019 | Forever | Rocky Mountain Riders #5
Come home to Topaz Falls, Colorado where a down-on-her-luck bull rider falls for the cowboy she can't resist in this heart-warming western romance!
As a champion barrel racer, Charity Stone has learned to hold her own in the male-dominated rodeo world. There's no cowboy she can't handle…except for one. Officer Dev Jenkins has made it clear he doesn't look at her like one of the guys. He's caught her attention but Charity doesn't do relationships–especially not with a cowboy. When she suddenly finds herself in charge of her thirteen-year-old nephew, who's had a few brushes with the law, Charity has no choice but to ask for the deputy's help.
Dev hasn't stopped fantasizing about Charity since she moved to Topaz Falls, but she's been hell bent on keeping her distance. When she comes to him for help with her nephew, he finally has the chance to make his move. Winning her over won't be easy, though–especially when her nephew's mistakes start to threaten his town. How can he do his job and still convince Charity he's the cowboy for her?