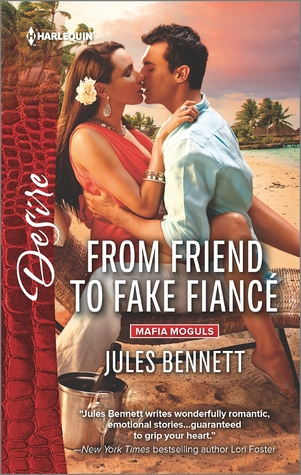 From Friend to Fake Fiancé (Mafia Moguls #2) by Jules Bennett: When your best friend texts you in a panic and says to get to Bora Bora, what do you do? If you are a true best friend you get your butt there immediately of course!
Jenna LeBlanc knew she was going to have some problems with this plan of hers but it was all she could think of right now. Who else could she turn to when her scum of an ex wanted her back. She was determined to not let him screw up her sisters wedding. So she called in reinforcements and if her best friend just happened to be a hot and sexy gentleman who she could ask to be her boyfriend for a week why not.
Mac O'Shea had been wanting his best friend since before he even knew her name, but since he had been placed in the friend category he was resigned to just having her in his life. That didn't mean he was going to waste this perfectly good opportunity though. The bigger issue was how he was going to walk away in a week and still keep their friendship.
Many things can happen in a week, more when you are playing make believe on a beautiful romantic island, but when a week ends does the dream?
OMG, save yourself the time and energy reading a review and go buy this book. Nothing that is written about it will do it justice. It is one of a series but can be read as a stand alone. You won't want to though and will be "patiently" counting the hours until the next one in the series comes out. The plot is great, the characters are wonderful and the descriptions help the story jump off the page. This is a not to miss kind of a read.
Book Info:

 Published May 10th 2016 | Harlequin Desire | Mafia Moguls #2
Two friends, one wedding and a little white lie…
Pretend to be Jenna LeBlanc's lover? Heck, Mac O'Shea has dreamed about being the real thing for years. Yes, they share a deep attraction, but they've agreed to "just be friends." After all, Jenna wants forever, and Mac's questionable family business means he's not the settling down type. He would never bring an innocent like Jenna into his dark world. But the mafia playboy can't resist the chance to touch her, to taste her—even if it's only a ruse for her sister's tropical wedding. It's just a week…in paradise…with a woman he desperately wants. Nothing will change between them. Right?