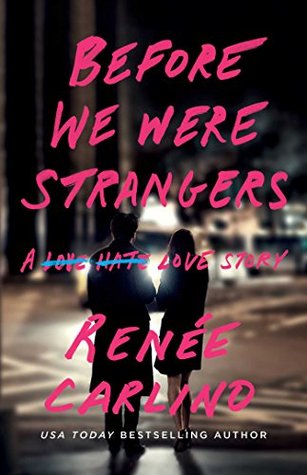 In Before We Were Strangers by Renee Carlino, These days Matt Shore is an award-winning photographer for National Geographic living in New York. But back in his college days at NYU, he was a photography student who was best friends with–and briefly married to–Grace Starr. A beautiful cello player who ended up being the girl who got away. A chance encounter on a subway platform fifteen years after their lives separated has Matt scrambling to find Grace again. But when they begin to reconnect, will he be ready to hear the truth of why things ended and what consequences they've both paid for it over the years?
'I felt it for Grace before I even had a name for it. I might have said the word a million times, but it sounded different now that I meant it. When I thought about what we had, it didn't matter that it was just friendship. I loved her.'
Grace's life may not have turned out the way she once dreamed of, back when she and Matt were the dynamic duo on campus. But she thought she had finally dealt with how things went down between them. Then he suddenly appears back in her life and seems intent on finding out things about the past. Grace has to decide if she's willing to go down that road again, knowing that Matt will be upset over what they've missed out on together over the years. It's both scary and thrilling to think that after so much lost time, they may finally have their chance to make things right. If she's willing to risk her heart all over again.
'He recognized me instantly, and all I could see in his face was pure wonder. It was like he was seeing the sunset over the ocean for the first time. As my train disappeared into the tunnel, his expression turned to desperation, and that's when I knew there was a missing piece to our story.'
Before We Were Strangers was a heartfelt romance about miscommunication and missed opportunities. Written in powerhouse author Renee Carlino's uniquely honest, intense style, I couldn't get enough of Matt and Grace's complex story.
'We both cried together, surrendering to the reality that we had to accept. No one could change the past or give us back the time we had lost, and there were no words to make everything better. We just had to accept the present for what it was.'
This is only the second book I've read by Carlino but I can honestly say that I am now absolutely hooked on her writing. Not only does she have incredible storytelling ability, but she also creates characters who are realistic and who show an emotional depth that draws the reader in. This was told through both Grace and Matt's POVs, alternating between the past and present. (Although the ending has a surprise POV and will likely have readers a bit misty-eyed) And while the first quarter or so of the book was mainly about Matt's life, once we got inside Grace's thoughts, that was when the truths came out, the drama truly began in earnest and everything, I mean everything, changed for them.
I want to talk about so many parts of this book but it's the type of story where each event layers together to form a complete picture, so to give one piece of the puzzle away would ruin the surprise. However, it is safe to admit that Matt and Grace–in my humble opinion–were soul mates. They made such an awesome couple who started off as friends who tried to deny their physical attraction and then became everything to each other. I loved watching that evolution play out. Even the bittersweet moments, because it seemed so real. Yes, I got frustrated a few times with Grace holding back her feelings and not trying harder to find Matt over the years, as well as with Matt for some of the decisions he made. But for me, that added to the realness of their situation and made them human.
Oh the feels. Before We Were Strangers was a nice blend of New Adult and Contemporary Romance as we watched how Grace and Matt's lives became entwined beginning back in their college days and continuing into their mid-thirties. Filled with every emotion imaginable and with just enough angst to keep things genuine, I think this is one story that will resonate easily with readers.
Book Info:

 Published August 18th 2015 | by Atria Books |
For fans of Jojo Moyes and the movie Before Sunrise, a sweeping love story inspired by a real-life missed connections story, from the USA TODAY bestselling author of the romantic women's novels Sweet Thing, Nowhere But Here, and After the Rain.
During their senior year of college, in an NYU dorm tucked into the heart of the East Village, Grace and Matt struck up a friendship over Jeff Buckley, Pearl Jam, and the Ramones. She was going to be a world-class cellist and he was going to be a famous photographer, their paths destined to diverge after graduation.
Even after an afternoon pub crawl ended in their drunken, spontaneous wedding, their visions for the future never overlapped enough for them to be together. The summer after college, he left his "ex-wife" on good terms and went to Brazil to work for National Geographic. They vowed to stay in touch and see each other soon.
They never did.
Fifteen years later, back in New York City, Matt sees Grace as she boards the J train. They're both different in a hundred ways, and yet they're still the same. But just as they recognize each other, just as he understands what he left behind all those years ago, the train pulls away. His only recourse is to send a missed connections letter out in the world, and hope she remembers where to look.